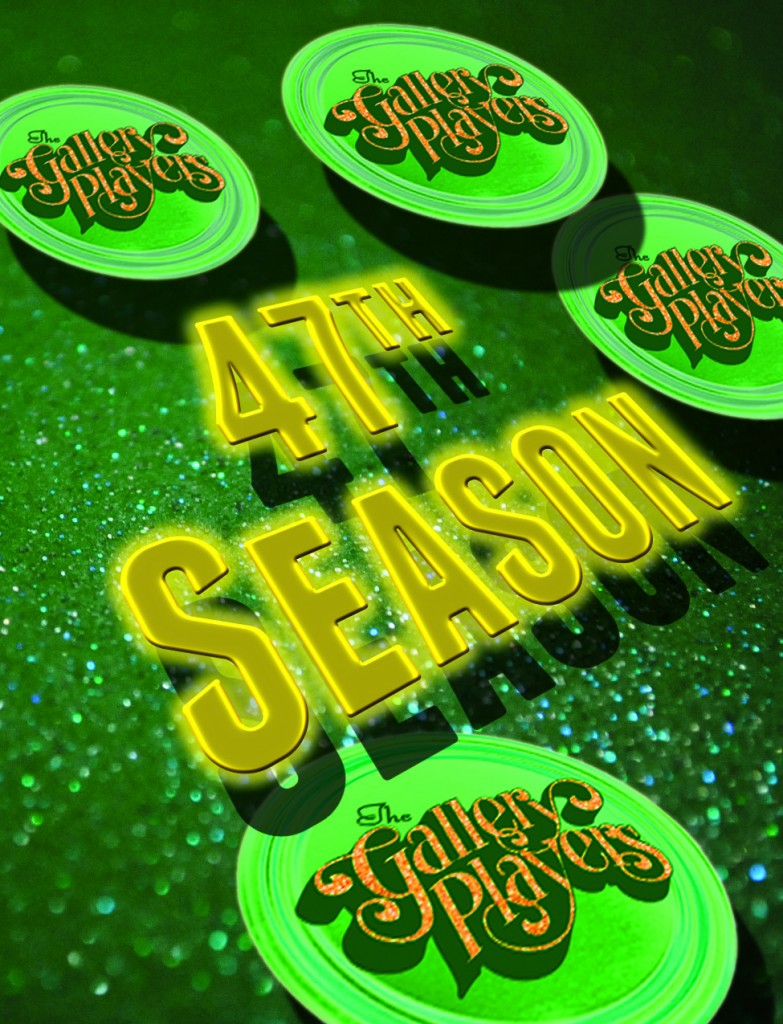 Performances take place Thursdays, Fridays, and Saturdays at 8PM; 2PM Saturday matinees the last 2 weekends of each show's run and Sundays at 3PM. (Please check performance schedule for individual shows for detailed information.)
Blithe Spirit
by Noel Coward
September 7 – September 22, 2013
Winner of the 2009 Drama Desk Award for Outstanding Revival
This much-revived classic from the playwright of Private Lives offers up fussy, cantankerous socialite-novelist, Charles Condomine; his late first wife, the clever and insistent Elvira; one Madame Arcati, the "happy medium" enlisted by Condomine to "call up" new material for his book; and his current wife, Ruth, who accidentally "passes over" as a result. As these (worldly and un-) personalities clash, Charles' gets more material than he bargained for.
"Can still keep an audience in a state of tickled contentment" – Ben Brantley, The New York Times, 2009. "A world-class comedy" – TheatreMania.com, 2009.
Four months after its first production set a performance record in Londo's West End in 1941, this smash comedy hit was produced in New York, at Broadway's Morosco Theatre. Its many manifestations since include movies, television, radio, and the musical, High Spirits.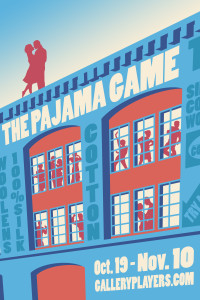 The Pajama Game
Book by George Abbott and Richard Bissell
Music & Lyrics by Richard Adler and Jerry Ross
Based on the novel, 7 1/2 Cents, by Richard Bissell
October 19 – November 10, 2013
Winner of the 1954 Tony Award for Best Musical and the 2006 Tony for Best Revival of a Musical
The dangers of a workplace romance are explored to hysterical effect in this romantic comedy from the creators of Damn Yankees. Conditions at the Sleep-Tite Pajama Factory are anything but peaceful as sparks fly between new superintendent, Sid Sorokin, and Babe Williams, leader of the union grievance committee. Their stormy relationship comes to a head when the workers strike for a seven-and-a-half cent pay increase, setting off not only a conflict between management and labor, but a battle of the sexes as well.
Bright and brassy, this unconventional, fast-paced Broadway favorite is every bit the embodiment of legendary director, George Abbott, at his very best. The energetic score is brimming with songs and dances which have become popular musical theatre standards, among them "Hey There," "Steam Heat", and "Hernando's Hideaway", featuring plenty of splashy, fun production numbers, including a comic 'dream ballet'. For solid, classic musical comedy, it's hard to beat The Pajama Game!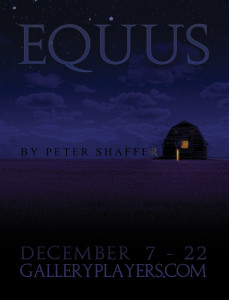 Equus
by Peter Shaffer
December  7 – December 22, 2013
1975 winner of the Drama Desk Award for Best Foreign Play, the Tony Award for Best Play, and the New York Drama Critics' Circle Award for Best Play
In this psychological detective story loosely based on an actual event, psychiatrist Dr. Martin Dysart is confronted with Alan Strang, a boy who blinds six horses in a violent fit of passion, a passion as foreign to Dysart as the act itself. To the boy's parents, it's a hideous mystery: Alan has always adored horses. To Dysart, it's a psychological maze that leads both doctor and patient to a complex and disturbingly dramatic confrontation.
"The closest I have seen a contemporary play come to reanimating the spirit of mystery that makes the stage a place of breathless discovery rather than a classroom for rational demonstration. Mr. Shaffer may have been trying for just such iconography, a portrait of the drives that lead men to crucify themselves there. Here I think he's found it." – The New York Times
This international success reached new acclaim in London and on Broadway in its 2007 revivals.

A Little Night Music
Book by Hugh Wheeler
Music and Lyrics by Stephen Sondheim
Based on Ingmar Bergman's film, Smiles of a Summer Night
January 25 – February 16, 2014
1973 winner of both the New York Drama Critics' Circle and the Tony Awards for Best Musical
In turning Ingmar Bergman's comedy of manners into an elegant and masterful musical, Stephen Sondheim creates a stunning tour de force that has from its first performance entranced the world of theatre.
Set in 1900 Sweden, A Little Night Music explores the tangled web of amours centered around actress Desirée Armfeldt and her family. This intricate dance of desire, jealousy and regret mounts to a volatile pitch during their weekend at Desirée's mother's country estate. With everyone in one place, infinite possibilities of new romances and second chances bring endless surprises. A Little Night Music is a dramatic musical celebration of love, full of hilariously witty and heartbreakingly moving moments.
Critic Rex Reed noted "The score of 'Night Music' …contains patter songs, contrapuntal duets and trios, a quartet, and even a dramatic double quintet to puzzle through." The New York Times' Clive Barnes echoes, "the real triumph belongs to Stephen Sondheim…the music is a celebration of 3/4 time, an orgy of plaintively memorable waltzes, all talking of past loves and lost worlds…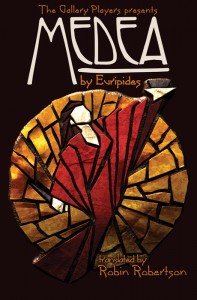 Medea
by Euripides
March 15 – March 30, 2014
Although Medea is now considered one of the greatest plays in the Western canon, its first audiences were not so favorable, awarding it only third prize at the 431 BC Dionysia.
This classic Greek play tells the iconic story of a woman's revenge for her husband's betrayal. Set in Corinth, where her husband, Jason – of golden fleece fame – has brought, then left her for the daughter of a king, the play opens with Medea grieving over her loss with her elderly nurse fearing what she might do to herself or her children. From this place, Medea, both character and play, rises to the heights of passion, love and vengeance.
Medea has been translated, produced and adapted for stage, screen, television, radio and dance by such notables as Jean Anouilh, Roberson Jeffers, Dimitris Papaioannou, Neil Labute, Michael John LcChiusa, Pier Paolo Pasollini, Lars van Trier, and Peter Stein. It remains one of the most produced of Greek classics and a favorite the world over.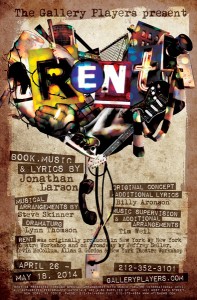 Rent
Book, Music, and Lyrics by Jonathan Larson
Based loosely on Giacomo Puccini's opera, La Boheme
April 26 – May 18, 2014
Winner of the Tony Award for Best Musical, Drama Desk Award for Outstanding Musical, and the Pulitzer Prize for Drama
Set in New York's Lower East Side, Jonathan Larson's Rent follows a year in the lives of a bohemian group of impoverished young artists and musicians, struggling to survive and create in New York's Lower East Side, under the shadow of HIV/AIDS. Rent is about falling in love, finding your voice, and living for today. This is theatre at its best: exuberant, passionate, and joyous. It has become a pop cultural phenomenon with songs that rock and a story that resonates with audiences of all ages.
In a true theatre success story, Rent was developed by a group of actors led by Jonathan Larson. It had its first reading in 1993, followed in 1994 by a three-week workshop production at New York Theatre Workshop, where it eventually opened in 1996 to great acclaim. (Sadly, its creator died suddenly the night before that opening.) Four months later, Rent transferred to Broadway's Nederlander Theater, where it ran for 12 years. In 2005, it was adapted into a move, starring most of the original Broadway cast.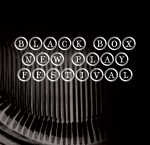 The 17th Annual Black Box New Play Festival
May 29 – June 22, 2014
For 16 years, Gallery has been dedicated to supporting emerging playwrights by developing and premiering their new plays. Each year, previously un-produced one-act – and in exceptional cases, full length – plays are selected, each playwright is paired with a professional director and actors, and the workshopping process begins. Driven by the playwright, the purpose of this collaboration is to hone the craft by polishing the play. The Festival runs four weeks, with a different program each week. Your subscription ensures entry to all four weeks.