October 20 – November 4, 2018
Thurs, Fri, Sat @ 8:00pm
Sun @ 3:00pm
Sat (Oct. 27 and Nov. 3) @ 2:00pm
GalleryTalks post-show conversation will take place immediately after the Sunday, October 28 performance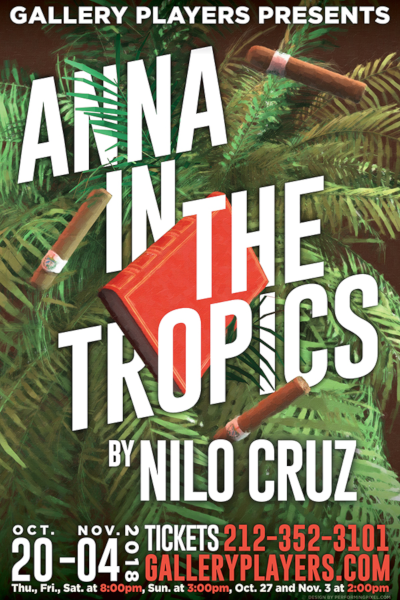 Winner of the 2003 Pulitzer Prize,
Anna in the Tropics
is a poignant and poetic play set in 1929 in a Cuban-American Florida cigar factory, where cigars are still rolled by hand and "lectors" are employed to educate and entertain the workers. The arrival of a new lector is a cause for celebration, but when he begins to read aloud from
Anna Karenina
, he unwittingly becomes a catalyst in the lives of his avid listeners, for whom Tolstoy, the tropics and the American dream prove a volatile combination.
The New York Times
proclaimed, "Mr. Cruz has created a work as wistful and affectingly ambitious as its characters.
Anna in the Tropics
reaches for the artistic heavens…"
This play features mature content and is not recommended for children.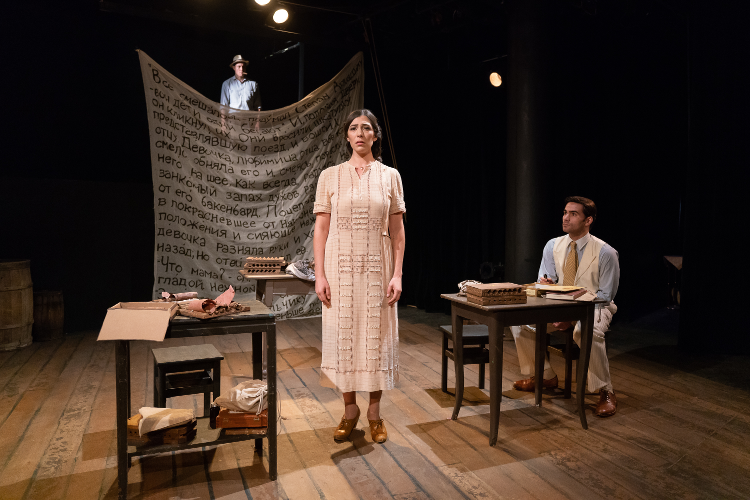 Photo by Steven Pisano Photography
Cast
Sergio Mauritz Ang*
Maylin Castro
Abbi Hawk*
Matt Mc Glade
Fabricio Santos
Rebecca Smith
John Squires
Devon Strom
Peter Tedeschi*

*Equity member appearing with permission of Actors' Equity Association without benefit of an Equity contract in this Off-Off Broadway production. Equity approved Showcase.

Creative
Producer: Justine McLaughlin
Director: Mark Gallagher
Set Designer: JiYoung Han
Lighting Designer: Gifford Williams
Costume Designer: Joey Haws
Props Designer: Rachel Mae Cullinane
Composer/Sound Designer: Fernando Hernández
Production Stage Manager: Michelle Danahy
Assistant Stage Manager: Timothy Sheridan

Run time: 2 hours and 15 minutes, including one intermission.


Photo by Steven Pisano Photography
Director Mark Gallagher, who previously staged the Gallery Players' productions of
The Elephant Man
,
The 39 Steps
,
Proof
,
Equus
and
The History Boys
returns with his own fresh interpretation of this prize winning drama. "
Anna in the Tropics
may be even more timely and resonant in 2018 than when it originally premiered. I think we're living in crass, myopic political times where the pursuit of the almighty buck is steamrolling the more poetic and artistic aspects of our lives in this country. This play takes place at a critical moment in time where a beloved aspect of Cuban (and in this case, Cuban-American) culture is at risk of being lost forever – trampled over by a blind pursuit of profit."
Photo by Steven Pisano Photography



This production is registered for the New York Innovative Theatre Awards