Black Box New Play Festival
Feb. 17 – Feb. 27, 2022
Thurs – Sun @ 7:30pm EST
The 25th annual new play festival will feature world premieres of short plays written specifically for Zoom, to view online from the comfort of your own home. Performances will be streamed online at 7:30pm EST Thursday through Sunday each week (link to be provided) – no downloads necessary!
First Week: February 17 – 20
TIME IN A BOX by Ken Levine
Directed by Elizabeth Bove

Two people open a time capsule in 2121 and look back at how people lived in 2021, and examine whether they'd want to go back there if they could.

Call Me by Carolyn Boriss-Krimsky
Directed by Whitney Stone

The boundaries of family and promise of love are tested as two estranged women meet on Zoom during a global pandemic.

Ladies Doth Protest by Kay Ellen Bullard
Directed by Noel MacDuffie

Two estranged sisters meet in the dark theater after the premiere of the older sister's production of Hamlet. Conversation centers around Hamlet's mother, Queen Gertrude. Or does it?
View full program



Second Week: February 24 – 27
Perspective by Bara Swain
Directed by Trent Dawson

Diaper explosions, Meryl Streep, Chicken McNuggets and Mark's deceased father-in-law are woven into the story when he prepares for a job interview, with the assistance of his mother-in-law, Ruth, who gives him perspective — and confidence.

Love Me, Love My Work by Glenn Alterman
Directed by Trent Dawson

Jane is furious because she believes that Ned told Sarah that he hated her new play. Ned totally denies that he did. Soon we discover the truth about this, and the unique relationship between Ned, Jane, and Sarah.
Festival Staff
Co-Producers: Dominic Cuskern & Sue Glausen
Video Editing: Matthew Kucharczyk (week one), Trent Dawson (week two)

---
2021 Black Box New Play Festival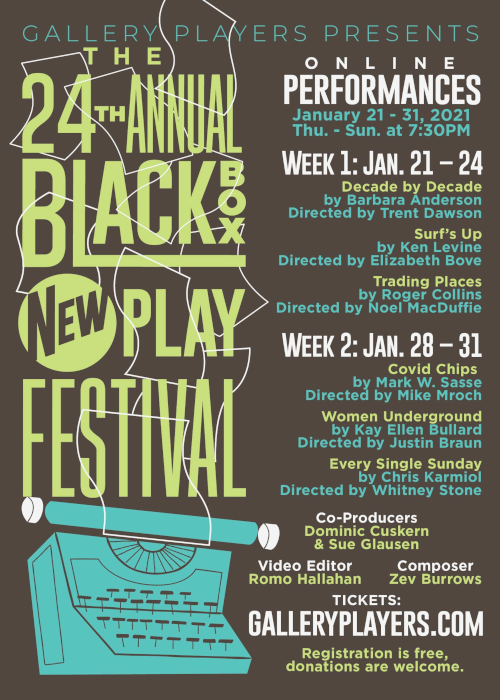 Watch last year's festival here!
---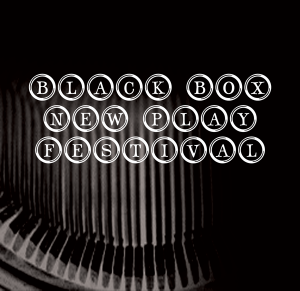 "Words can't express what I feel right now. What a special two nights I just had. Sitting with friends and strangers and watching 2 hours of my work in a theater full of love and support for my writing. This whole process has been not only fun but important because I learned so much from seeing OCEAN PLANET staged and realized. What a special memory. Thank you from the bottom of my heart for believing in me and producing this weekend of my plays." – Brett Epstein, playwright