Black Box New Play Festival
Jan. 21 – Jan. 31, 2021
Thurs – Sun @ 7:30pm

The 24th annual new play festival will feature world premieres of short plays written specifically for Zoom, to view online from the comfort of your own home. Performances are free to watch and will be streamed online at 7:30pm EST Thursday through Sunday each week (link to be provided) – no downloads necessary!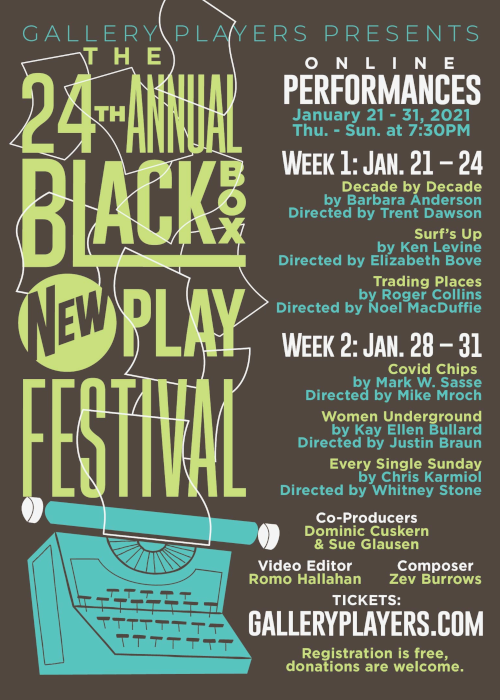 First Week: January 21 – 24
Decade by Decade by Barbara Anderson
Directed by Trent Dawson

It's a Thursday morning two years since the pandemic began in the Brooklyn home of Maria, Andrew, and their son Jared. Maria works as a Covid tracer and Jared is an internet influencer, but Andrew was forced into early retirement from his much-loved teaching career. In fact, everyone over sixty is considered too vulnerable to work or to even leave their homes. Andrew does his best to retain his role as the family provider, but what begins as a typical Thursday soon becomes a day when secrets are revealed and actions must be taken.

Barbara Anderson (Playwright) is a writer of books, short stories, and plays. Her plays have been produced live and on Zoom in California, New York, Oregon, and England. Letters from the Way is available through Amazon. The Piazza and An Empowered Woman were presented in Galley's 23rd Black Box New Play Festival.

Diane Barranca (Maria) Black Box Festival: 2020 – Sex; 2017 – Alzheimer's Diary; 2016 – Diamonds Are Forever; 2010 – Winter Flowers. Gallery Players mainstage: Emma, Over the River and Through the Woods. Favorite roles: Golde, Fiddler on the Roof; Essie Miller, Ah, Wilderness!; Madame Renaud, La Cage Aux Folles; Aunt Polly, Tom Sawyer; Cookie, Rumors.

Jonas Barranca (Jared/Associate Producer) is an actor, stuntman, director and writer from Brooklyn. Previous productions at Gallery Players: Songs Offered from the Heart (Director), Cabaret (Cliff), Understanding Lear (Young Man), Animal Fair (The Child). TV: "Hightown" STARZ, "One Dollar" CBSAllAccess, "Gotham" FOX. Stage: Romeo & Juliet, Frankenstein, Gypsy. @jonasbarranca

Victor Barranca (Andrew) Black Box Festival: 2020 – Sex; 2019 – The Black Box (or How to Die Happy); 2018 – Two Assholes on an Elephant; 2016 – Diamonds Are Forever and The Bend in the Tree; 2015 – The Keys to Life? and Mrs. Lee's Yellow Cat. Gallery Players mainstage: Pop, Gypsy; Millet, Fuddy Meers. Other favorite roles: Willy Loman; Kris Kringle, Miracle on 34th Street; The Wizard of Oz; Gloucester, King Lear; Duncan, Macbeth.

Trent Dawson (Director, DP, Editor) Director – Gallery Players, American Theatre of Actors, founding A.D. Katonah Classic Stage. Actor – Broadway: The Herbal Bed; Off Broadway: Playwrights Horizons, Theatre Row, SOHO Rep; Regional: McCarter, Baltimore Center Stage, GEVA. Film/TV: Men in Black III, "Homeland," "The Good Wife," "The Marvelous Mrs. Maisel." Three Emmy nominations. trentdawson.com

Ed Zisk (Sound Recorder) is a musician and audio professional currently expanding his artistry into the visual realm. He is 1/2 of the music project Komanda. If you'd like to know more, check @ziisq for personal inquiries and @komandamusica for bookings. Much love.

---

Surf's Up by Ken Levine
Directed by Elizabeth Bove

Peter announces to his Millennial daughter, Wendy, that he has quit his job and is going on an "endless summer" to surf around the world. And he invites her to shake up her button-down life and join him.

Elizabeth Bove (Director) Full-length directing credits include: A Man for All Seasons, Uncle Vanya, Still Life, Cracks. Over 50 one-acts and readings, including on Zoom, at Gallery Players, the Strawberry One-Act Festival, HB Studio, the Heights Players, and the Samuel French Off Off Broadway Short Play Festival. www.elizabethbove.com

Ken Levine (Playwright) is an Emmy-winning writer/director/playwright/major league baseball announcer. His full-length plays have been performed in New York, Los Angeles, and throughout the country. His many short plays have been produced around the world and have won numerous festivals and competitions. Ken was the head writer of "MASH," producer of "Cheers," and has written over 200 episodes of television for such shows as "MASH," "Cheers," "Frasier," "The Simpsons," and "Wings." He co-wrote the movie Volunteers starring Tom Hanks and John Candy, has been the play-by-play voice of the Baltimore Orioles, Seattle Mariners, and San Diego Padres, and hosted "Dodger Talk" for eight seasons. He's done more but that's enough.

David Shakopi (Peter) Zoom 2020: The Gin Game, The Crucible; Theater: Stranger Than a Rhino, FringeNYC; A Walk on the Beach, Theater for a New City; A Man for All Seasons, the Heights Players. Film/TV: "Diabolical," "Evil Lives Here," "Six Degrees of Murder." VO: Meet Cute; LO3 Energy; Restoration Row. For M&K. www.davidshakopi.com

Elise Wilkes (Wendy) graduated from William Esper Studio in May 2019 where she studied the Meisner Acting Technique, Movement, Voice and Speech, and Mask. This is her second year with the Black Box New Play Festival and she is excited to be back, especially after 2020. Email: elisewilkess@gmail.com

---

Trading Places by Roger Collins
Directed by Noel MacDuffie

A father and his teenage daughter, separated in Cyberspace, debate the sanctity of raising mother from her grave after one year of interment. The father prevails and they intone an incantation and resurrect the matriarch. But yet another debate ensues – who will join whom seems to be at issue. As the time for their decision grows short, they rehash their relationships until, suddenly, darkness looms over all three and the matter is decided.

Roger Collins (Playwright) is a clinical psychologist and professor emeritus at the University of Cincinnati where he received the Cohen Award for Excellence in Teaching. His fiction has been published in literary journals and his plays produced in Cincinnati and Dayton, Ohio, Fort Thomas, Kentucky, and in Brooklyn, NY.

Jane Coty (Daughter/Jen) is excited to be in this production and working with such a wonderful team. Jane appeared in The Final Word at Gallery Players about two years ago and is happy to be back. She gives thanks to her friends and family during Covid quarantine!

Noel MacDuffie (Director) is happy to return to Black Box for this virtual version. His work has been seen at HERE Arts Center, Broadway Bound Festival, Brooklyn College, the Brighton Fringe Festival, Fringe NYC, Brooklyn Music School and American Theater of Actors. He holds an MFA/Directing from Brooklyn College.

Kevin Bryant Rose (Father/Phil) Native New Yorker and Hunter College theater graduate. His recent works include A Raisin in the Sun and Our Lady of 121st Street, as well as TV roles in "Awkwafina is Nora From Queens," "Ray Donovan," "Jessica Jones" etc. Excited to participate in this imaginative piece.

Noelle Teagno (Woman/Lori) received her acting training from Yale and has appeared at NJ Rep, Long Wharf Theatre, Women's Theatre Co., and more. Most recently, she played Heroica in By Jupiter! with Village Light Opera Guild and Mona in Come Back to the Five and Dime… at the Heights Players. AEA/SAG.
---
Festival Staff
Dominic Cuskern (Co-Producer) has been involved with Gallery Players for almost 30 years. He currently serves as President of the Board of Directors, and is the Producing Director of Players' Shakespeare at Gallery.
Sue Glausen (Co-Producer) is an actor and director, as well as a producer. This is her eighth year co-producing the Black Box New Play Festival.
Zev Burrows (Composer) is a composer for film and musical theatre. His new musical The Pledge was selected for the New Works Lab at James Madison University in 2019, and has released two albums: "Diamond in the Rough" and "Pillows & Ice Picks."

Romo Hallahan (Video Editor) is an NYC-based media, lighting and broadcast designer and engineer for theater and streaming. His last streaming production was She Kills Monsters with Waterwell Theater. Other live streaming theater credits: Pippi Longstocking with Scandinavian American Theater Company, Hamlet (at Home) with Gallery Players, Twelfth Night with Meisner Studio. Recent credits designing on stage include Bo-Nita (DENIZEN Theater), Closer (Stella Adler Studios), The Eumenides (Stella Adler Studios), and The Whale (Harold Clurman Lab). www.quidproproductions.com

In memory of Timothy Sheridan.

This production is offered to all, free of charge; however, we encourage donations to cover our modest expenses. Please consider making a contribution as we continue to navigate these uncertain times.