by William Shakespeare
July 21-31, 2011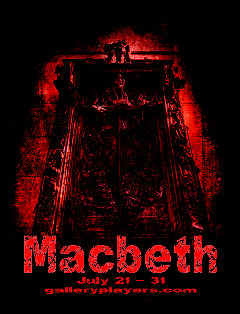 You have it all. beautiful wife. Beautiful home. Faithful friends. Great job. The boss in your pocket. One day, you make the wrong move. Zig when you should zagged. You open the door to chaos and it all comes apart, that good life. Chaos shadows your beautiful wife, haunts that beautiful house. Friends, job, boss swallowed in an expanding pool of madness. Gone. Just you, alone in the dark. Tomorrow and tomorrow and tomorrow. Creeping toward death. Macbeth.
NOTE: This show is an addendum to the regular season and is not part of our subscription packages.

Pictured: David Patrick Ford as Macbeth. Photo by Michael Amoroso.
Performance Schedule
Thursday July 21 at 7:30PM
Friday July 22 at 7:30PM
Saturday July 23 at 2PM and at 7:30PM
Sunday July 24 at 3PM
Monday July 25 at 7:30PM
Wednesday 27 at 7:30PM
Thursday July 28 at 7:30PM
Friday July 29 at 7:30PM
Saturday July 30 at 2PM and at 7:30PM
Sunday July 31 at 3PM
The Staff
Producer – Dominic Cuskern/The Gallery Players
Director – Mark Harborth
Scenic Artist – Jackie McCarthy
Costume Designer – Jong Kim
Lighting Designer – Scott A. Cally
Sound Designer – Jacob Subotnick
Fight Director – Joe Travers
Stage Manger – Becky J. Doster
Assistant Stage Manager – Tim Sheridan
Publicist – Michael Martinez
The Cast
Donalbain/Murderer 1/Servant/Young Siward – Dave Benger
Duncan/Doctor – Dan Snow*
Malcolm – Brendan Cataldo
Banquo/Messenger – Marcus Denard Johnson*
Macbeth – David Patrick Ford*
Sargent/Lord/Siward – Nicholas Aliff
Macduff – Seth D. Rabinowitz*
Angus/ Porter/Murderer 2 – Jara Jones
Ross – Mark A. Kinch
Lennox – Arthur Koster
Seyton/Murderer 3/Servant/Messenger – Joel Fullerton
Soldier/Attendant – James Meneses
Witch 2/Son/Fleance – Hannah Timmons
Lady Macbeth/Witch 3 – Sidney Fortner*
Hecate/Old Man/Gentlewoman – Bryn Carter
Witch 1/ Lady Macduff – Minna Taylor
*appearing courtesy of Actors' Equity Association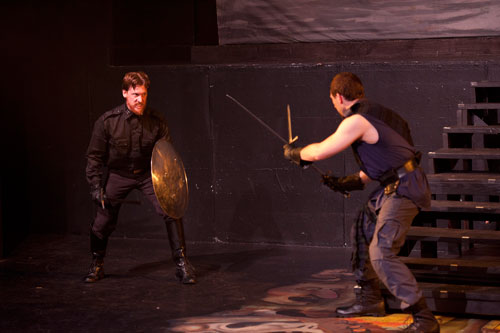 Pictured (left to right): David Patrick Ford as Macbeth and Seth D. Rabinowitz as Macduff. Photo by Michael Amoroso.