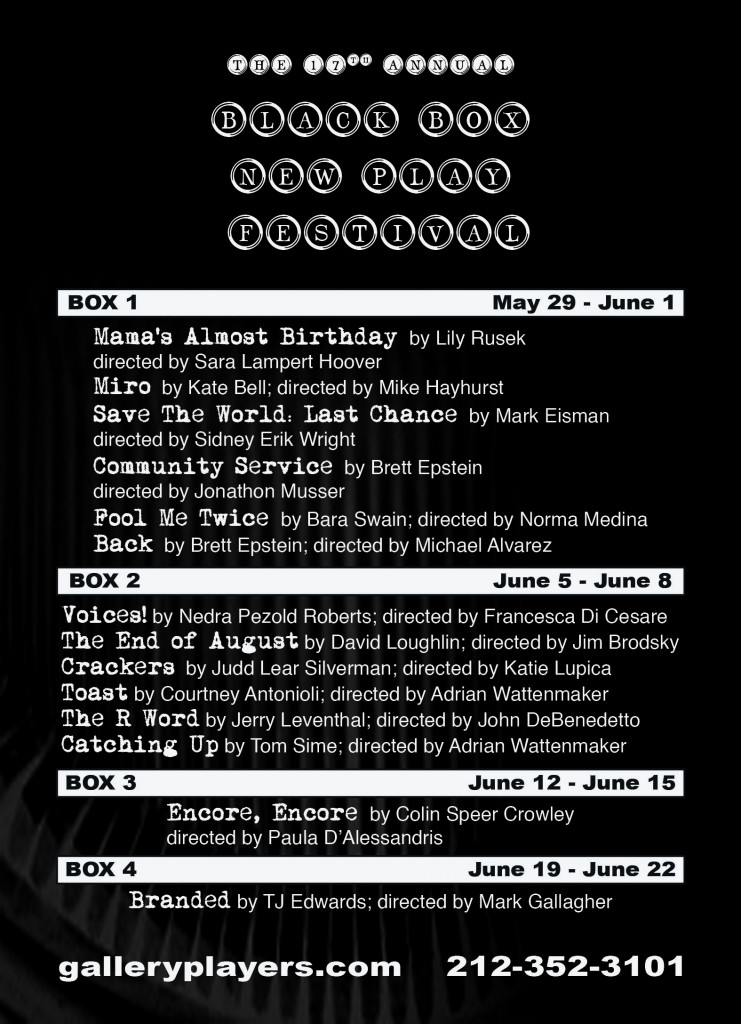 DETAILS
Box 1: May 29-June 1
Save the World: Last Chance by Mark Eisman, director Sidney Erik Wright
A middle school teacher is desperate to keep his one geography class and his star pupil who has been training for the state championship. The student's mother, a former classmate of the teacher's, is threatening to move out of state to start a new life. The teacher's passion for geography is so great that he is driven to extreme's to save
Miro by Kate Bell, director Mike Hayhurst
Horace the dogwalker is having a bad day. He's somehow managed to lose his largest canine client, a Cane Curso named Miro. But when he confesses his negligence to Miro's owner, Emma, she confronts him with her own animal nature.
Mama's Almost Birthday by Lily Rusek, director Sara Lampert Hoover
Long-suffering Isabelle throws a surprise birthday part for her mother, Vera, one week early because her sister Rochelle cannot fit Mama's real birthday into her schedule. Isabelle's boyfriend, Lenny, surprises Isabelle and Rochelle gets the
shock of her life.
Fool Me Twice by Bara Swain, director Norma Medina
Desiree, expecting her first child, befriends another patient in the waiting room at her obstetrician's office. Unbeknownst to the young woman, the stranger is Desiree's mother, who abandoned her at birth.
Community Service by Brett Epstein, director Jonathon Musser
Heather, the most popular girl in school, must go on a date with Reginald, the nerdiest boy in the school, as community service for some wrongdoing on her part.
Back by Brett Epstein, director Mike Alvarez
A young man flees his Maine hometown after a devastating event. Five years later he returns to rekindle relationships with his brother and his high school pal.
Box 2: June 5-8
The End of August by David Loughlin, director Jim Brodsky
Billy meets his father in the waiting room of a hospital soon after his mother was rushed there in an ambulance. Will, Billy's father, seems in total denial about the emotional problems that plagued his wife. On this night of nights, Billy confronts him about it.
Catching Up by Tom Sime, director Adrian Wattenmaker
A dark comedy in which Sally, a well-to-do widow and newly minted social work volunteer, goes to visit Fred, a recently paroled murderer, as part of a program to re-integrate him into society. The vast gulf between their worlds narrows but Sally finds herself becoming acclimated to Fred's way of thinking considerably more than the other way around.
Voices by Nedra Pezold Roberts, director Francesca Di Cesare
Joan of Arc and George Bernard Shaw are now both in heaven where they have spent a few "time out" periods together in the therapist's waiting room of the Department of Celestial Adjustment. Eternity, it would seem, is not as "heavenly" as we might believe. On this particular day they nearly blunder into a violent confrontation.
The R Word by Jerry Leventhal, director John DeBenedetto
Lou has worked as a traveling salesman for the same company for 45 years. Michael has replaced his father as head of the company and feels there is no place any longer for a traveling salesman. Will Michael be able to convince Lou to accept what he should have seen as inevitable.
Crackers by Judd Lear Silverman, director Katie Lupica
Based on a true story: two women serve tea and reflect on a rather odd event caused by one's mistake: $6,000 in cash is found in a box of crackers brought home from a local grocery store. In the process of recounting the adventure and what happened, we learn much about the women, their lives, the past and their hopes for
the future.
Toast by Courtney Antonioli director Adrian Wattenmaker
Sarah's fiftieth birtday came and went without a single acknowledgement from her husband, George. No party. No presents. No cake. What does Sarah decide to do.?
Box 3: June 12-15
 
Encore, Encore by Colin Speer Crowley, director Paula D'Alessandris
We meet Dorothy Parker as she begins her journey to literary fame. As Dorothy's career surges, her personal life collapses.
Box 4: June 19-22
Branded by TJ Edwards, director Marc Gallagher
This drama, laced with humor, tells the story of a woman who nearly dies from an AIDS-like disease before a miracle drug rescues her. She becomes the "face" of a pharmaceutical company, bringing her great wealth – but when she advocates for the drug to be given away free to save lives she learns that every drug has a cost – not only financially.