July 13 – 28, 2019
Thurs, Fri, Sat @ 7:30pm
Sun @ 3:00pm
Sat (July 20 and 27) at 2:00pm
Gallery Players presents Shakespeare's classic,
The Tempest
, a timeless tale of young love, old enemies, and the magic of storytelling. Exiled to a fantastical island, Prospero, the rightful Duke of Milan, unleashes a storm to shipwreck his traitor brother Antonio and the complicit Queen Alonsa of Naples, causing them to believe they are marooned on the island. Wanting to protect his daughter Miranda, and plotting to seek revenge using illusion and skillful manipulation, Prospero's machinations ultimately bring about revelations, redemption, and newfound love.
Photo by Steven Pisano Photography
Cast
Grace Ahlin
Simoné Elizabeth Bart*
Martha Benson
Patricia Black
Dominic Cuskern*
Harley Diamond
Sarah Jordan Hupper
Alice Ivey
Ana Karneža
Caitlyn Mary Klenner
Colleen Litchfield
Ava McLaughlin
George Olesky*
Teddy Qin
Jocelyn Rossillo
Michael Selkirk*
Delancey Shapiro
Griffin Sharps*
Eri Sica
Sadie Spitler

*Equity member appearing with permission of Actors' Equity Association without benefit of an Equity contract in this Off-Off Broadway production. Equity approved Showcase.

Creative
Producers: Rhiannon McClintock & Myah Shein
Director: James Dean Palmer
Choreographer: Myah Shein
Assistant Director: Phil Fine Schneider
Scenic Designer: Mike Mroch
Costume Designer: Corina Chase
Lighting Designer: Hao Bai
Sound Designer & Composer: Chris Felix
Props Designer: Dana Weintraub
Production Stage Manager: Dennis Ngoc Ho*
Assistant Stage Manager: Timothy Sheridan
Assistant Stage Manager/Child Guardian: Kelly Eatinger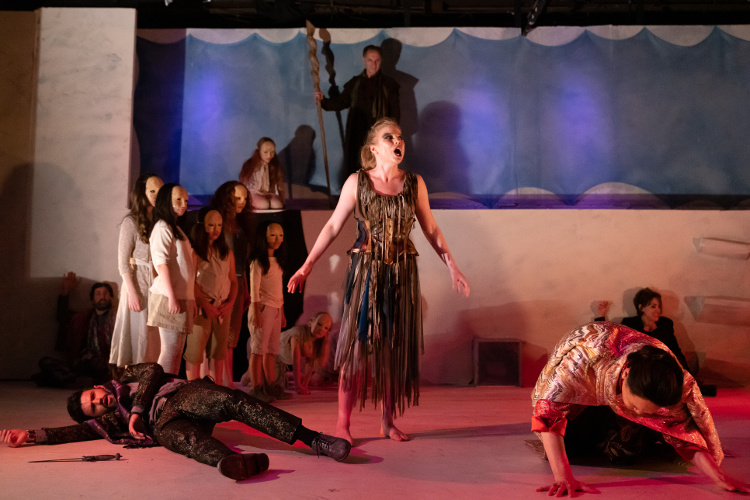 Photo by Steven Pisano Photography
This summer's Players' Shakespeare production of The Tempest is one of our most ambitious to date. Featuring a spirit chorus comprised of young performers from across the city and original music by composer Chris Felix, the magic of the island will be brought to life through song and child-like wonder.
Ticket sales comprise less than half of our production budget and we couldn't do it without patrons like you. Support the extraordinary artists of The Tempest with your tax-deductible gift today.
Learn more about how you can help here.


Photo by Steven Pisano Photography