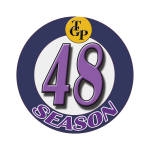 Performances take place Thursdays, Fridays, and Saturdays at 8PM; 2PM Saturday matinees the last 2 weekends of each show's run and Sundays at 3PM. (Please check performance schedule for individual shows for detailed information.)

Music by Tom Kitt
Book and Lyrics by Brian Yorkey
September 13 – October 5, 2014
NEXT TO NORMAL was nominated for eleven 2009 Tony Awards and won Best Original Score, Best Orchestration and Best Performance by a Leading Actress in a Musical. It won the 2010 Pulitzer Prize for Drama, becoming just the eighth musical in history to receive the honor.  The Pulitzer Board called the show "a powerful rock musical that grapples with mental illness in a suburban family and expands the scope of subject matter for musicals."
This musical tells the story of Diane Goodman, a mother struggling with bipolar disorder, and the effect this illness has on her family. It's "an emotional powerhouse of a musical" addressing such issues as grieving a loss, ethics in modern psychiatry, and the undercurrents of suburban life, exploring via provocative lyrics and a thrilling score how far parents will go to keep themselves sane and their family's world intact.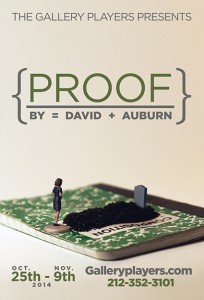 by David Auburn
October 25 – November 9, 2014
Pulitzer Prize, Tony Award, New York Drama Critics Circle Award
Catherine has spent years caring for her brilliant – but unstable – father, Robert. When he dies, she has more than grief to deal with. There's her estranged sister, Claire. There's Hal, a former student of her father's who hopes to find valuable work in the 103 notebooks Robert has left behind. And then there's the matter of how much of dad's madness and/or genius Catherine will inherit.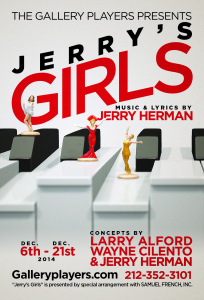 Music and Lyrics by Jerry Herman
Concepts by Larry Alford, Wayne Cilento and Jerry Herman
December  6 – December 21, 2014
JERRY'S GIRLS is Gallery's gift for this holiday season – a gift of memorable songs from  Broadway's greatest musicals, composed by the incomparable Jerry Herman, and executed by some of Gallery's most beloved female performers. A musical revue of one of Broadway's most successful composers, JERRY'S GIRLS is a celebration of Jerry Herman's work, including songs from Hello Dolly!, La Cage Aux Folles,  Mame, A Day in Hollywood/A Night in the Ukraine, andMilk and Honey. This production will feature a cabaret style atmosphere and seating, offering audiences the chance to experience the music of Jerry Herman in an intimate setting. It promises to be an thrilling evening of favorites, fun and festivities – perfect for holidays.
"A brilliantly lively and scintillating evening of cabaret." – The New York Times
"Warm, witty, lively and terrific!" – Associated Press
"A show of tremendous musicality and great wit." – Variety

by Ray Cooney
January 17 – February 1, 2015
This iconic example of British farce had both London and New York audiences rolling in the aisles! Because of his irregular working schedule, taxi driver John Smith gets away with having two wives and two lives in different areas of London. But when John is mugged and police investigate, the cabby must redouble his efforts to keep his double life from exploding.
"Run for Your Wife should run for life!" – Sunday Express
"A frolic? It is…a triumph." – Daily Telegraph
"Virtually continuous laughter." – The New York Post
"Audiences will enjoy the show tremendously." – The New York Daily News
Book by Joseph Stein
Music and Lyrics by Stephen Schwartz
Based on the film La Femme de Boulanger by Marcel Pagnol and Jean Giono
March 7 – March 29, 2015
Old world charm permeates every moment of THE BAKER'S WIFE, a gently bittersweet and offbeat fable of life, love and bread by Joseph Stein and Stephen Schwartz.
Provence, France, 1935. This rural village has been without a baker for seven weeks. Finally, the bickering residents find peace and contentment with a new baker, Aimable, and his attractive young wife, Genevieve. However, when Genevieve is lured away by a handsome young man with a penchant for passion, the middle-aged baker loses all zest for life – and baking. To restore gastronomic balance, the villagers must work as a team to bring Aimable and Genevieve back together.

Lyrics by Tim Rice
Music by Andrew Lloyd Webber
April 25 – May 17, 2015
L.A. Drama Critics Circle Awards, Laurence Olivier Award, Drama Desk Award
Argentina's controversial First Lady is the subject of this dynamic musical masterpiece. As an illegitimate fifteen year old, Eva escaped her dirt-poor existence in the bright lights of Buenos Aires. Driven by ambition and blessed with charisma, she was a starlet at twenty-two, the president's mistress at twenty-four, First Lady at twenty-seven, and dead at thirty-three. Eva Peron – 'saint to the working-class, reviled by the aristocracy, and mistrusted by the military' – was destined to leave a fascinating political legacy, unique to the 20th century. Told through a compelling score that fuses haunting chorales with exuberant Latin, pop and jazz, EVITA creates an arresting theatrical portrait as complex as the woman herself.

The 18th Annual Black Box New Play Festival
May 28 – June 21, 2015
For 17 years, Gallery has been dedicated to supporting emerging playwrights by developing and premiering their new plays. Each year, previously un-produced one-act and full length plays are selected, each playwright is paired with a professional director and actors, and the workshopping process begins. Driven by the playwright, the purpose of this collaboration is to hone the craft by polishing the play. The Festival runs four weeks, with a different program each week.