Broadway Backstage: A Musical Theatre History Seminar
September 30, 2020

-

November 18, 2020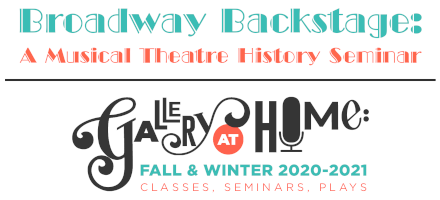 Wednesdays, 7-8:30pm
Instructor: Barrie Gelles
Cost: $20 per class; $120 for the full eight-week session
About the Course
This course explores the uniquely "American" theatrical form – the Broadway Musical. The musical, as a popular art form, holds a powerful place in our contextual understanding of U.S. culture, history, and sociology. Through this course, participants will gain an appreciation for analyzing musical theatre, an understanding of its place in theatre history, and an appreciation for the ways in which the critical study of musicals can illuminate social and contextual aspects of U.S. history.
We will focus on "ways of reading" musical theatre: participants will learn about the aspects of musical theatre, the function of music, the intricacies of staging, and the power of performance. We will also build upon these skills and focus on "ways of looking" at musical theatre: participants will engage in the critical analysis of select musicals that will enable them to further appreciate musicals and understand their contextual importance in cultural and social histories.
The course materials will include librettos, archival photographs, video clips, supplemental readings, and more! Participants will be sent the librettos (script) and links to the original Broadway cast album prior to each session. There are no required assignments and no required readings – but Barrie will provide plenty of materials for those who want to do some voluntary homework!

Course Schedule
Sign up for the entire eight-week course and save! Or sign up for individual topics that fit your interests and schedule.
Class Session
Class Topic
Wednesday, Sept. 30
"Love Will Find A Way": When Musical Theatre Made History
Shuffle Along (1921); Babes in Arms (1937); and The Cradle Will Rock (1937)
Wednesday, Oct. 7
"There's a Place for Us": American Mythologies
Oklahoma! (1943); Guys and Dolls (1950); and West Side Story (1957)
Wednesday, Oct. 14
Folk Songs, Prayers, and Comic Shtick: Jewishness and Broadway Musicals
Fiddler on the Roof (1964); Funny Girl (1964); and Cabaret (1966)
Wednesday, Oct. 21
"Who Am I Anyway?": Musical Theatre Revolutions and Identities
Hair (1968); A Chorus Line (1970)
Wednesday, Oct. 28
"I Am What I Am": Queering the Broadway Musicals
La Cage Aux Folles (1983); Rent (1996); and Fun Home (2013)
Wednesday, Nov. 4
"Look, I Made a Hat": How Sondheim Changed Broadway
Company (1970); Sweeney Todd (1979); and Sunday in the Park With George (1984)
Wednesday, Nov. 11
"How Lucky We Are to Be Alive Right Now": Lin Manuel-Miranda's Broadway
In the Heights (2007) and Hamilton (2016)
Wednesday, Nov. 18
"Any Way the Wind Blows": Why Musicals Truly Matter
This session will include suggestions from students who take the whole 8-week course, but some suggestions for the session include:
A Strange Loop (2019); Hadestown (2019); SpongeBob Squarepants: The Broadway Musical (2016)
Note: Class content may be adjusted based on student input – we will try to fit in favorite musicals, if possible.
About the Instructor
BARRIE GELLES is a theatre scholar, director, and teacher. She is a PhD candidate of Theatre and Performance at The Graduate Center, City University of New York where her research emphasizes the study of musical theatre aesthetics as a way to examine how the recurring themes and tropes in Broadway musicals recreate, reframe, and reclaim narratives of Jewish American cultural history and collective memory.
Barrie teaches musical theatre history, theatre history, acting, directing, and public speaking at many NYC colleges; she currently teaches at Baruch College, Marymount Manhattan College, and NYU Steinhardt School of Culture, Education and Human Development. She regularly presents her research at the annual conferences of the Association for Theatre in Higher Education and the American Society for Theatre Research.
Barrie directs new musicals, rarely produced musicals, and re-envisioned revivals of musicals wherein she uncovers a new story while remaining loyal to the original text. At Gallery Players she has directed The Baker's Wife, Seussical, Marry Me a Little, A New Brain, Once Upon a Mattress, and Little Women. She also created and continues to curate Overtures, a new musical developmental reading series at Gallery Players. For more information, visit barriegelles.com.