Do I Hear a Laugh?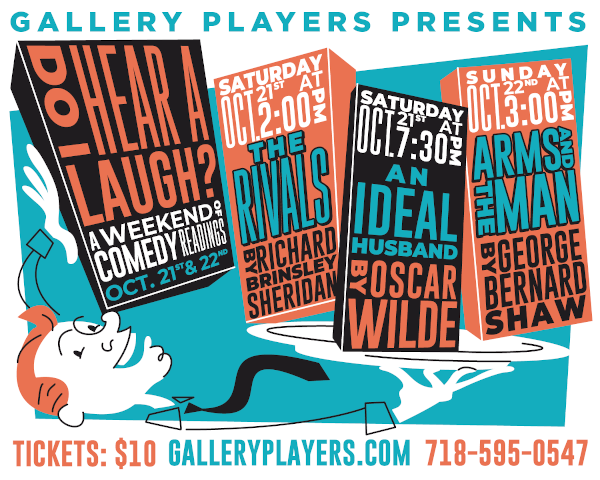 A Weekend of Comedy Readings
Sat @ 2:00pm & 7:30pm
Sun @ 3:00pm

Saturday, October 21 at 2pm:
The Rivals by Richard Brinsley Sheridan
Directed by Michael Blatt
The Rivals, a comedy of manners in five acts, was produced and published in 1775. Set in fashionable Bath, the play concerns the romantic difficulties of Lydia Languish, who is determined to marry for love and into poverty. Realizing this, the aristocratic Captain Jack Absolute woos her while claiming to be Ensign Beverley. But her aunt, Mrs. Malaprop, will not permit her to wed a mere ensign, and Lydia will lose half her fortune if she marries without her aunt's permission. Among the play's many plot complications is the appearance of Sir Anthony (Jack's father). The Rivals satirizes the social expectations of courtship and marriage among the upper classes, while also exploring themes of honor and the role of women in the eighteenth century.
Saturday, October 21 at 7:30pm:
An Ideal Husband by Oscar Wilde
Directed by Laura Livingston
First produced in 1895, An Ideal Husband is a four-act play by Oscar Wilde that revolves around blackmail and political corruption, and touches on the themes of public and private honor. The play opens during a dinner party at the home of Sir Robert Chiltern in London's fashionable Grosvenor Square. Sir Robert, a prestigious member of the House of Commons, and his wife, Lady Chiltern, are hosting a gathering that includes his friend Lord Goring, a dandified bachelor and close friend to the Chilterns, Mabel Chiltern, and other genteel guests. With wit and gaiety, Wilde paints a scathing critique of gossips, income gaps, sexist attitudes, and the perils of protecting one's morals.
Sunday, October 22 at 3pm:
Arms and the Man by George Bernard Shaw
Directed by Gabrielle Giacomo
Arms and the Man is a comedy by George Bernard Shaw that shows the futility of war and deals comedically with the hypocrisies of human nature. Set in Bulgaria in the 1880s, this three act play is one of Shaw's most enduringly popular comedies. Raina Petkoff is engaged to the gallant Sergius Saranoff, hero of the recent Bulgarian victory over the Serbs. But she is distracted by the abrupt arrival of Captain Bluntschli, a Swiss mercenary who fought for the Serbian army and takes refuge in her bedroom after the battle. Extra intrigue is provided by servant girl Louka, her dour fiance Nicola, and Raina's hand-wringing parents.