Sept. 7 – 29, 2019
Thurs, Fri, Sat @ 8:00pm
Sun @ 3:00pm
Sat (Sept. 21 and 28) @ 2:00pm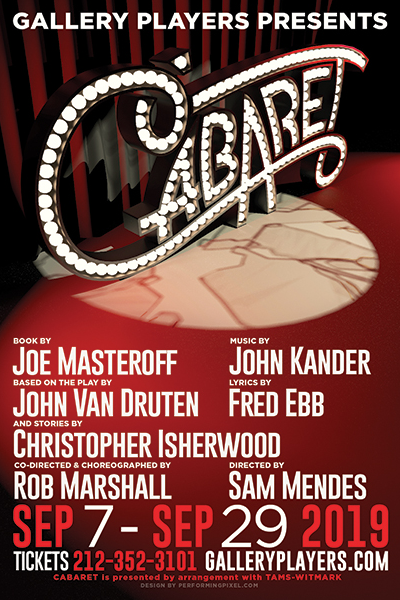 David Thomas Cronin
Director
Shiloh Goodin
Assistant Director & Choreographer
Jason Liebson
Music Director
Emcee threats: Musical recalls the rise of Nazis in Berlin – The Brooklyn Paper
In a Berlin nightclub, as the 1920s draw to a close, a garish Master of Ceremonies welcomes the audience and assures them they will forget all their troubles at the Cabaret. With the Emcee's bawdy songs as wry commentary, Cabaret explores the dark, heady, and tumultuous life of Berlin's natives and expatriates as Germany slowly yields to the emerging Third Reich. Cliff, a young American writer newly arrived in Berlin, is immediately taken by English singer Sally Bowles. Meanwhile, Fräulein Schneider, proprietor of Cliff and Sally's boarding house, tentatively begins a romance with Herr Schultz, a mild-mannered fruit seller who happens to be Jewish. Gallery will be producing the 1998 revival script, made famous by Alan Cumming as Emcee.
Mature themes. Recommended for audiences over 18 years old.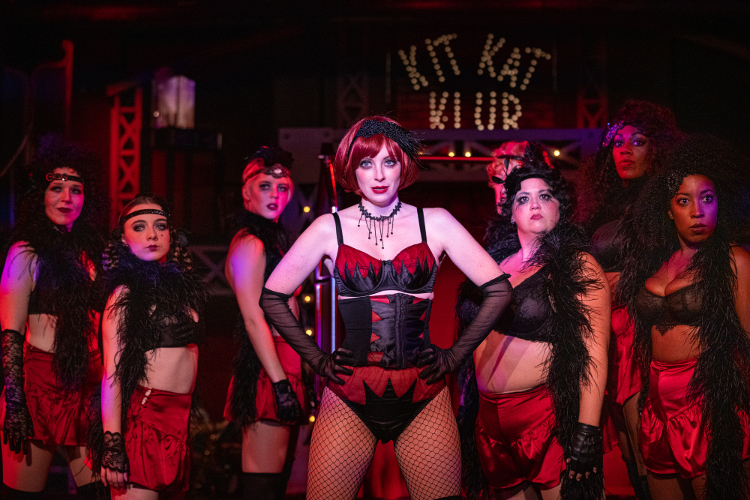 Photo by Steven Pisano Photography
Cast
Jonas Barranca*
Daniel Benjamin Capra
Kiara Danielle*
Cait Farrell
Mikey Giordano
Liz Gurland
Jae Hughes
Lauren Joyce
Victor Kholod
Lorinne Lampert*
Brian Edward Levario
Ryan S. Lowe
Erica Lustig*
Thomas Lynch
Kevin McAuley
Anthony Obnial
Heather Olsen
Paul Page*
Theresa Rowley

*Equity member appearing with permission of Actors' Equity Association without benefit of an Equity contract in this Off-Off Broadway production. Equity approved Showcase.

Creative
Director: David Thomas Cronin
Choreographer & Assistant Director: Shiloh Goodin
Music Director: Jason Liebson
Scenic Designer: Jerry Mittelhauser
Costume Designer: Joseph Shrope
Lighting Designer: Annie Garrett-Larsen
Sound Designer: Sean Ramos
Props Designer: Rachel M. Cullinane
Fight Choreographer: Jonas Barranca
Associate Choreographer: Nicole Bilbao
Production Stage Manager: Benjamin A. Vigil
Assistant Stage Managers: Amanda Kettell & Kirill Polich
Spotlight Operator: Timothy Sheridan
Producer: Dominic Cuskern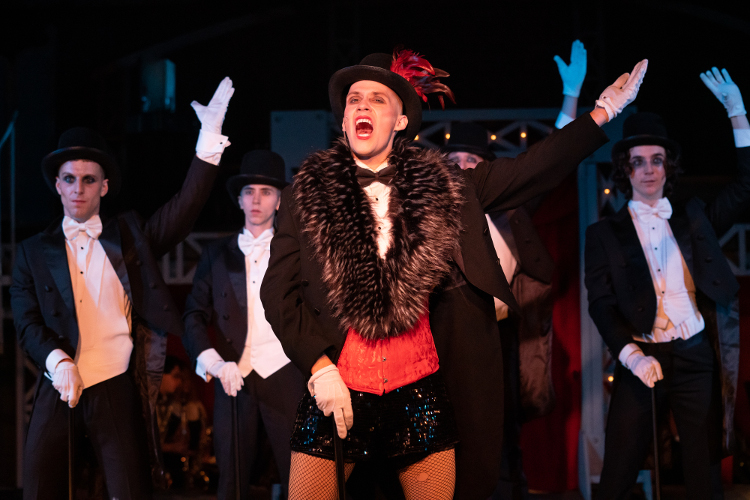 Photo by Steven Pisano Photography

Photo by Steven Pisano Photography
Run time: 2 hours and 45 minutes, including one intermission.

Cabaret is presented by arrangement with Tams-Witmark, a Concord Theatricals Company.





This production is registered for the New York Innovative Theatre Awards