December 1 – 16, 2018
Thurs, Fri, Sat @ 8:00pm
Sun @ 3:00pm
Sat (Dec. 8 and 15) @ 2:00pm
GalleryTalks post-show conversation will take place immediately after the Sunday, December 9 performance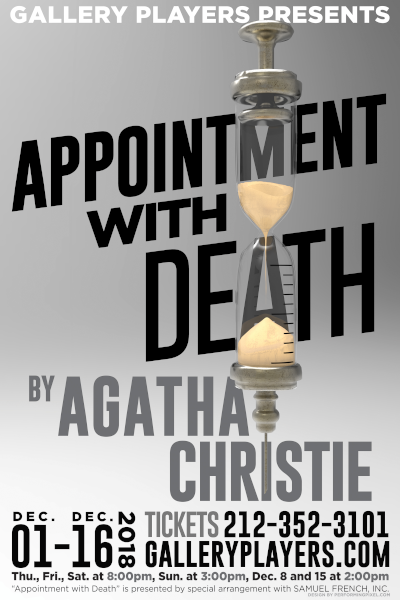 A killer show! Don't miss your 'Appointment with Death' – The Brooklyn Paper
Appointment with Death
is Agatha Christie's most surprising adaptation from page to stage. In this version of the 1938 detective novel of the same name, Christie has created an entirely new ending. Featuring a group of travelers who find themselves thrown together on a Middle Eastern expedition, this chilling play offers a unique take on the classic murder mystery, where characters' motivations are suspect and relationships may not be what they seem.
Photo by Chris Gagliardi
Cast
Mrs. Boynton – Noelle McGrath*
Ginevra Boynton – Rosa Procaccino
Lennox Boynton – David Jacobs*
Nadine Boynton – Rhiannon McClintock
Hotel Clerk – Naeem Mirza
An Italian Girl – Jody Kay Smith
Alderman Higgs – Stuart Fero
An Arab Boy – Kevin Shivcharran
Lady Westholme – Elizabeth Bove*
Miss Amabel Pryce – Gael Schaefer*
Dr. Theodore Gerard – Thomas Martin Conroy*
Sarah King – Kat Murphy
Jefferson Cope – Dante Belletti
Raymond Boynton – Ryan Wright*
A Dragoman – Ran Levy
Colonel Carbery – Taylor Hanes
*Equity member appearing with permission of Actors' Equity Association without benefit of an Equity contract in this Off-Off Broadway production. Equity approved Showcase.

Creative
Producers: Marty Goldin and Rhiannon McClintock
Director: Dominic Cuskern
Assistant Director: Hilary Goldman
Scenic Designer: William B. Sawyer
Lighting Designer: Eve Bandi
Costume Designer: Joseph Charles
Props Designer: Gabrielle Giacomo
Sound Designer: Charlie Hill
Composer: Zev Burrows
Projection Designer: Tianshu Zhao
Production Stage Manager: Christopher Denver
Assistant Stage Manager: Kirill Polich

Run time: 2 hours and 15 minutes, with one intermission

Appointment with Death is presented by special arrangement with SAMUEL FRENCH, INC.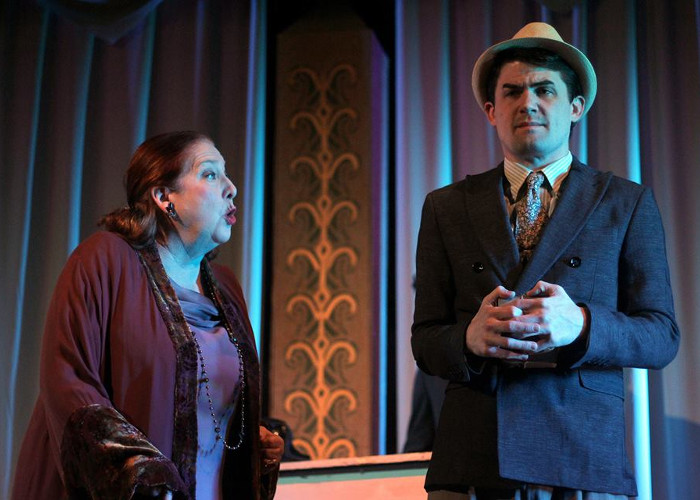 Photos by Alice Teeple



This production is registered for the New York Innovative Theatre Awards