Black Box New Play Festival
Jan. 21 – Jan. 31, 2021
Thurs – Sun @ 7:30pm

The 24th annual new play festival will feature world premieres of short plays written specifically for Zoom, to view online from the comfort of your own home. Performances are free to watch and will be streamed online at 7:30pm EST Thursday through Sunday each week (link to be provided) – no downloads necessary!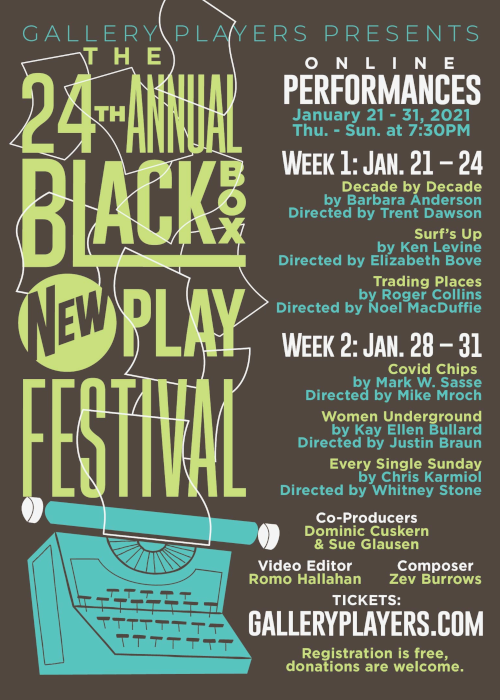 Second Week: January 28 – 31
Covid Chips by Mark W. Sasse
Directed by Mike Mroch

As restaurants in New York State begin to re-open during the COVID-19 crisis, Mr. Jawarski, from Peppy's Pub in Jamestown, receives a Zoom call from an Albany health official making sure that Peppy's is compliant. As Mr. Jawarski continues complying with new regulations, the health official keeps making additional Zoom calls to bring attention to another matter of omission.

Larissa Adamczyk (Health Official) studied Meisner Technique at William Esper Studio. She's in the short film Unvoiced, (local/int'l film festival winner), several character voices in Over-Throne (a Top50 selection in AAFL's 2020 72hr Film Festival), and several web series: Tiny Boxes, A Period Drama, and In The Time Of…

Mike Mroch (Director) is a New York-based director and scenic designer. Select directing credits: Killing Time: What We Do (Gallery Players), 20,000 Leagues Under the Sea (Strawdog Theatre), In The Time Of… (webseries), Wingman (Winner – Best Show), Tenants, Advances (Short Play Festival), Starbucks at the End of the World (WeFest), Ballad of Kiki, Joe, and the Space Gods (Insomniacs Festival). www.mikemroch.com

Mark W. Sasse (Playwright) is a novelist, award-winning playwright, and theatre enthusiast. Originally from Pennsylvania, he has lived overseas in Asia and the Middle East for much of the past 25 years. His newest novel, A Diamond for Her, releases April 1, 2021. He currently teaches theatre in Jeddah, Saudi Arabia while spending his summers in Jamestown, NY.

Josh Wood-Triplett (Mr. Jawarski) is a Brooklyn-based actor, performer, and new dad! Keep the arts ALIVE and be kind to one another. Cheers!

---

Women Underground by Kay Ellen Bullard
Directed by Justin Braun

Three women living lives of quiet desperation find themselves buried in the rubble of a bank explosion. Each has her own past experiences that could impact their survival strategy. Is any rescue even possible if you've already been living the equivalent of a buried life?

Justin Braun (Director) is an NYC-based director originally from Los Angeles, CA. Recent directing credits: 57 Bus (NYC reading), Thankstaking (Gallery Players), Be More Chill (UofM), [title of show] (Panola Playhouse). He holds an MFA in directing from the University of Memphis. www.justinbraundirector.com

Kay Ellen Bullard's (Playwright) plays have been read or produced by multiple theaters including: Boston Theatre Marathon, Culture Park New Bedford, Acme Theatre Maynard, Gallery Players, Sundog Theatre Staten Island, and Wilbury Theatre Group Studio W New Works. She is a member of the Dramatist Guild and the Blue Cow Group of Providence-based playwrights.

Jordan Hartwell (Elle) is originally from Nashville, TN and now resides in Clarksville working as a student affairs professional. Some of her past credits include The Servant of Two Masters (Beatrice) at the University of Memphis and Elephant's Graveyard (Ringmaster) with Voices of the South. Education: University of Memphis (B.F.A. in Theatre Performance).

Staci Merritt (Tina) is very grateful to return to Gallery Players. She was previously seen in Vanya & Sonia & Masha & Spike as Nina and A Chorus Line as Vicki/Kristine. She would like to thank the Women Underground team and Gallery Players for keeping theatre alive during these unprecedented times.

Linda Vega (Grace) was last seen in The Piece with Gallery Players, and also appeared as Harriet Stanley, The Man Who Came to Dinner (St. Jean's Players); Mrs. Chauvenet, Harvey and Grigsby/Schoolmistress, A Christmas Carol, (Heights Players). Also seen in Enchanted April (FAPC Theatre), Point of Origin (The Brick) and Our Town (St. Bart's).

---

Every Single Sunday by Chris Karmiol
Directed by Whitney Stone

Different generations attempt to make a virtual connection and it doesn't go too smoothly. But that's okay… it wasn't meant to.

Diane Barranca (Mother) Black Box Festival: 2020 – Sex; 2017 – Alzheimer's Diary; 2016 – Diamonds Are Forever; 2010 – Winter Flowers. Gallery Players mainstage: Emma, Over the River and Through the Woods. Favorite roles: Golde, Fiddler on the Roof; Essie Miller, Ah, Wilderness!; Madame Renaud, La Cage Aux Folles; Aunt Polly, Tom Sawyer; Cookie, Rumors.

Victor Barranca (Father) Black Box Festival: 2020 – Sex; 2019 – The Black Box (or How to Die Happy); 2018 – Two Assholes on an Elephant; 2016 – Diamonds Are Forever and The Bend in the Tree; 2015 – The Keys to Life? and Mrs. Lee's Yellow Cat. Gallery Players mainstage: Pop, Gypsy; Millet, Fuddy Meers. Other favorite roles: Willy Loman; Kris Kringle, Miracle on 34th Street; The Wizard of Oz; Gloucester, King Lear; Duncan, Macbeth.

Chris Karmiol's (Playwright) plays have been staged around the country and published in anthologies. He's an NYC native who lived blocks from the Brooklyn Gallery Players in the early '90s, his heyday. He attended college at Columbia, where he earned a bachelor's in writing/literature and a master's in journalism. He lives in California.

Paul Mancini (Ricky) is thrilled to be making his Gallery Players debut. Paul did his undergraduate work at Hofstra University and received an MFA from NYU. Recent credits include Savage in Limbo, Marisol, and Dementia Americana (2016 Fringe Festival Encores Selection). Thanks to Whitney, Diane, Victor, Chris, Romo and everyone at Gallery.

Whitney Stone (Director) is thrilled to return to the Gallery Players after directing Vacancies by Scott C. Sickles in last year's festival. She is currently Coordinating Producer on Nambi E. Kelley's Jabari Dreams of Freedom, touring digitally this spring. Whitney completed the One-Year Directing Program at The Barrow Group and is an associate member of SDC. www.whitneystone.org.
---
Festival Staff
Dominic Cuskern (Co-Producer) has been involved with Gallery Players for almost 30 years. He currently serves as President of the Board of Directors, and is the Producing Director of Players' Shakespeare at Gallery.
Sue Glausen (Co-Producer) is an actor and director, as well as a producer. This is her eighth year co-producing the Black Box New Play Festival.
Zev Burrows (Composer) is a composer for film and musical theatre. His new musical The Pledge was selected for the New Works Lab at James Madison University in 2019, and has released two albums: "Diamond in the Rough" and "Pillows & Ice Picks."

Romo Hallahan (Video Editor) is an NYC-based media, lighting and broadcast designer and engineer for theater and streaming. His last streaming production was She Kills Monsters with Waterwell Theater. Other live streaming theater credits: Pippi Longstocking with Scandinavian American Theater Company, Hamlet (at Home) with Gallery Players, Twelfth Night with Meisner Studio. Recent credits designing on stage include Bo-Nita (DENIZEN Theater), Closer (Stella Adler Studios), The Eumenides (Stella Adler Studios), and The Whale (Harold Clurman Lab). www.quidproproductions.com

In memory of Timothy Sheridan.
This production is offered to all, free of charge; however, we encourage donations to cover our modest expenses. Please consider making a contribution as we continue to navigate these uncertain times.