Marry Me a Little / You're A Good Man, Charlie Brown – in Rep.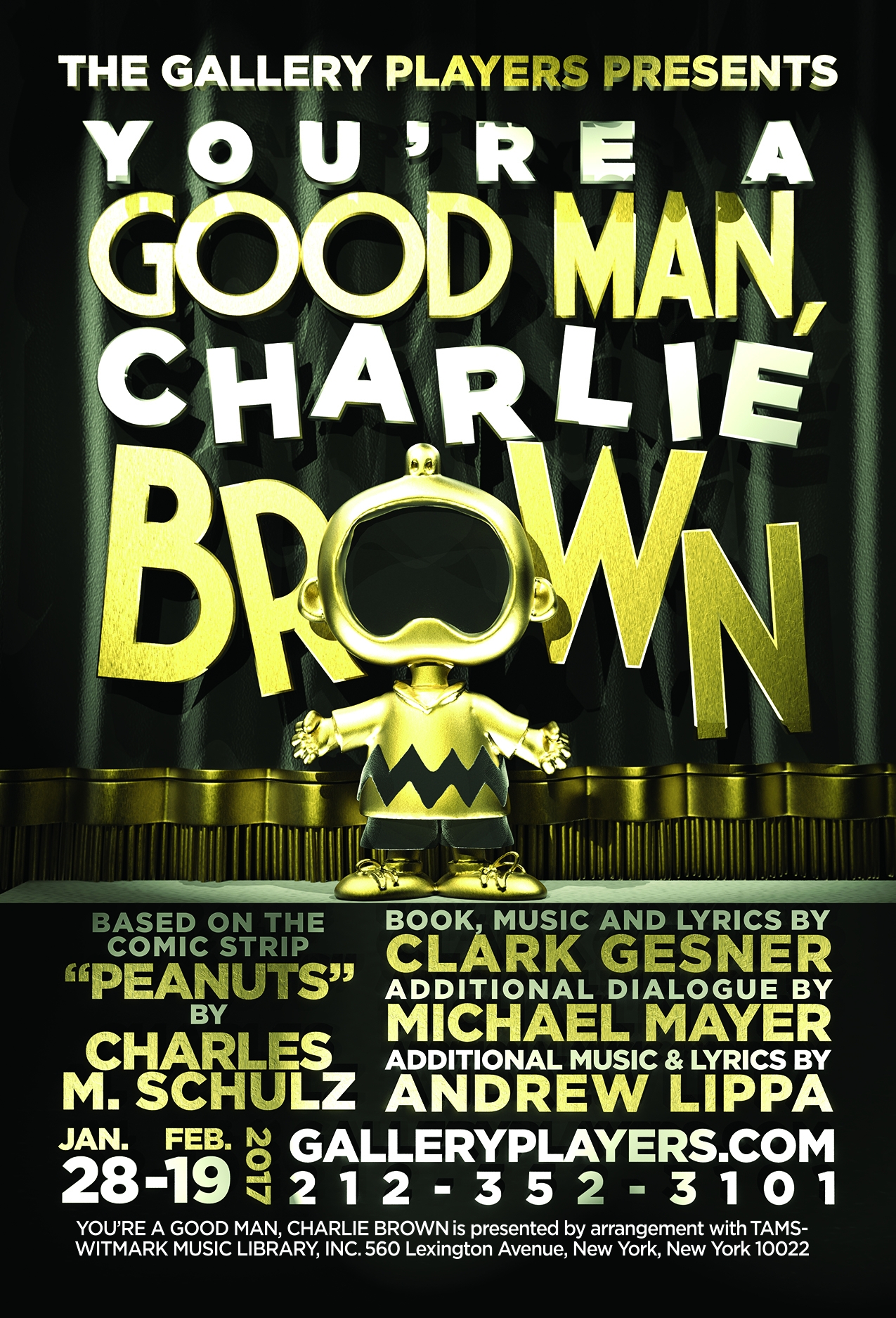 Marry Me a Little
is a charming and bittersweet musical featuring rarely heard songs by Stephen Sondheim. Two urban singles live through a Saturday night of deep yearning and sweet fantasies while never leaving the confines of their solitary New York City apartments. Together they breathe new life and meaning into a collection of trunk songs that were culled from the original Broadway productions of shows such as
Follies
,
Company
,
A Funny Thing Happened on the Way to the Forum
, and
A Little Night Music
. A must for Sondheim aficionados and any New Yorker who ever found themselves alone on a Saturday night, thinking about love that was lost and love to be found.
You're a Good Man, Charlie Brown (revised) is a fresh approach to the all-time 1967 classic. Featuring the Peanuts Gang: Charlie Brown, Sally, Linus, Lucy, Schroeder, Snoopy, and more! Two new songs, "Beethoven Day" and "My New Philosophy," have been added to the twelve wonderful numbers of the original version, which include "My Blanket and Me," "Suppertime," "The Baseball Game," and "Happiness."
Performance Schedules
MARRY ME A LITTLE
[By special permission from Mr. Sondheim, Gallery will be presenting this two character musical with male/female, male/male and female/female pairings.]
Thurs, Jan 26 @ 8:00pm (Jesse Manocherian and Alyson Leigh Rosenfeld) M/F pairing
Fri, Jan 27 @ 8:00pm (Adrian Rifat and Paul Williams) M/M pairing
Sat, Jan 28 @ 8:00pm (GalleryTalks) (Laura Cetti and Cassandra Dupler) F/F pairing

Thurs, Feb 2 @ 8:00pm (Adrian Rifat and Paul Williams) M/M pairing
Fri, Feb 3 @ 8:00pm (Laura Cetti and Cassandra Dupler) F/F pairing
Sat, Feb 4 @ 8:00pm (Jesse Manocherian and Alyson Leigh Rosenfeld) M/F pairing
Thurs, Feb 9 @ 8:00pm (Laura Cetti and Cassandra Dupler) F/F pairing
Fri, Feb 10 @ 8:00pm (Jesse Manocherian and Alyson Leigh Rosenfeld) M/F pairing
Sat, Feb 11 @ 8:00pm (Adrian Rifat and Paul Williams) M/M pairing

Thurs, Feb 16 @ 8:00pm (Adrian Rifat and Paul Williams) M/M pairing
Fri, Feb 17 @ 8:00pm (Jesse Manocherian and Alyson Leigh Rosenfeld) M/F pairing
Sat, Feb 18 @ 8:00pm (Laura Cetti and Cassandra Dupler) F/F pairing
YOU'RE A GOOD MAN, CHARLIE BROWN
Saturday, January 28 @ 2:00pm
Sunday, January 29 @ 12:00pm
Sunday, January 29 @ 3:00pm (GalleryTalks)
Saturday, February 4 @ 2:00pm
Sunday, February 5 @ 12:00pm
Sunday, February 5 @ 3:00pm
Saturday, February 11 @ 2:00pm
Sunday, February 12 @ 12:00pm
Sunday, February 12 @ 3:00pm
Saturday, February 18 @ 2:00pm
Sunday, February 19 @ 12:00pm
Sunday, February 19 @ 3:00pm

MARRY ME A LITTLE

Cast
[A first for this show, there will be three rotating casts performing each weekend.]
Female/Female pairing
Laura Cetti
Cassandra Dupler
Male/Female pairing
Jesse Manocherian*
Alyson Leigh Rosenfeld*
Male/Male pairing
Adrian Rifat
Paul Williams
*appearing courtesy of Actors' Equity Association
Staff
Producer – Jonathan King
Director and Choreographer – Barrie Gelles
Music Director – Yi-Hsuan (
Sobina
) Chi
Lighting Designer – Scott Cally
Costume Designer – Hayley Zimmerman
Set Designer – Paul Radassao
Production Stage Manager – Jillian Christensen
Assistant Stage Manager – Emily LaRosa
---
YOU'RE A GOOD MAN, CHARLIE BROWN

Cast
Cassandra Dupler – Frieda
Brian Graziani – Pig Pen
Jesse Manocherian* – Snoopy
Adrian Rifat – Linus Van Pelt
Alyson Leigh Rosenfeld* – Lucy Van Pelt
Samantha Schiffman* – Sally Brown
Gerardo Vallejo – Schroeder
Paul Williams – Charlie Brown
Christy Yin – Violet
*appearing courtesy of Actors' Equity Association
Staff
Producer – Justine McLaughlin
Director and Choreographer – Barrie Gelles
Music Director – Yi-Hsuan (
Sobina
) Chi
Lighting Designer – Scott Cally
Costume Designer – Hayley Zimmerman
Set Designer – Paul Radassao
Production Stage Manager – Jillian Christensen
Assistant Stage Manager – Emily LaRosa