Mar. 26 – Apr. 10, 2022
Thurs*, Fri, Sat @ 8:00pm
Sat (Apr. 2 and 9) @ 2:00pm
Sun @ 3:00pm
* The Thursday, April 7th performance will be a 12:00pm school matinee (open to the public); there will be no 8:00pm performance that evening.



Nya, an inner-city public high school teacher, is committed to her students but desperate to give her only son Omari opportunities they'll never have by sending him to an upstate private school. When her son is about to be expelled over a controversial incident at the private school, Nya must confront his rage and her own choices as a parent. But will she be able to reach him before a world beyond her control pulls him away? With profound compassion and lyricism,
Pipeline
brings an urgent conversation powerfully to the fore. Morisseau pens a deeply moving story of a mother's fight to give her son a future – without turning her back on the community that made him who he is.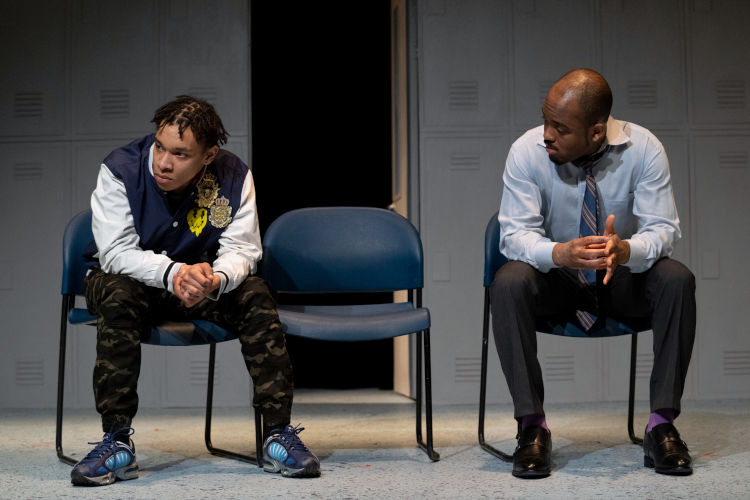 Photo by Steven Pisano Photography
Cast
Nya – Candice Clarke
Omari – Boubakar Djombana
Jasmine – Angelica Beliard
Laurie – Ellen Orchid
Dun – Hassan Hope
Xavier – Bennie Brown

Creative
Producer: Dominic Cuskern
Associate Producer: Cathy Cosentino
Director: Irvin Mason Jr.
Assistant Director: Maisa Chiang
Set Designer: Pancharee Sangkaeo
Costume Designer: Caroline Berti
Lighting Designer: Noel MacDuffie
Props Designer: Madeleine Dieterle
Sound Designer: Courtney Seyl
Projection Designer: Dominic Grijalva
Production Stage Manager: Daniel Brothers
Assistant Stage Managers: Gabriel Abraham, Charlotte Patton, Kirill Polich

Run time: one 1 hour and 30 minutes

Pipeline is presented by arrangement with Concord Theatricals on behalf of Samuel French, Inc. www.concordtheatricals.com
Photo by Steven Pisano Photography