Performances take place Thursdays, Fridays, and Saturdays at 8PM; 2PM Saturday matinees the last 2 weekends of each show's run and Sundays at 3PM. (Please check performance schedule for individual shows for detailed information.)
Buy subscriptions to 3 plays, 3 musicals, and a new play festival now!

What the Butler Saw
by Joe Orton
September 11-26, 2010
The Prentices are not an ordinary couple. Dr. Prentice is a psychiatrist with his own hospital who believes that the best way to interview a girl for a job is to seduce her. Geraldine Barclay does her best to comply, but nothing is going to work smoothly in this nut house that includes Mrs. Prentice, a nymphomaniac who is seduced by a bellhop in a hotel, or maybe it's vice versa. Mrs. Prentice brings home her reluctant bellhop just as the state inspector decides to pay a visit to the hospital. What ensues is a wild melee of disappearances, disguises and discoveries as husband and wife try to hide their prizes from the inspector and from one another. The ending is one of those delights that Oscar Wilde might have dreamed up in a sequel to The Importance of Being Earnest.
"Hilarious, outrageous… It dazzles!… Wonderfully verbal, toying with words as if they were firecrackers." The New York Times
"Brilliant, witty, the funniest show so far this season." NBC TV
"Madly antic humor." AP
Read more about What the Butler Saw.

Reefer Madness
Book by Kevin Murphy and Dan Studney; Music by Dan Studney; Lyrics by Kevin Murphy
October 23-November 14, 2010
Let's be blunt…it's a hit!
Inspired by the now-classic propaganda film of the mid 1930s, this raucous musical comedy tracks the mayhem that ensues when fresh-faced, clean-cut teenagers fall prey to society's Public Enemy No. 1: the dreaded menace and leafy green assassin: marijuana! "It's an uproarious downward spiral hazed with a heady mix of orgies, dismemberment, zombies, swing dancing and, of course, Jesus. This much fun shouldn't be legal. At its core, this wild and sardonic romp is a timely piece of political commentary, questioning the truth and motives of prominent mouthpieces, ultimately proving that even the most all-American dreams can go up in smoke if you let your morals go to pot.
"Reefer Madness broadly expands on the skeleton plot of the original film and turns it into a deliciously campy, wickedly funny romp! This show combines the main character from Godspell with the kinkiness of The Rocky Horror Show and the traditional musical theatre aesthetic of A Chorus Line!" Johnnie Walker, Strand (Toronto)
"Reefer Madness…is deliberately outlandish and silly. And that's what makes it so good…[the show includes] a dozen or so over-the-top and hilarious production numbers." Robert Dominguez, New York Daily News
"The funniest thing to come down the pike — or the pipe — in a while." Eric Marchese, Backstage
Originally directed by Andy Fickman and produced by Stephanie Steele for Dead Old Man Productions
Read more about Reefer Madness.

Dancing at Lughnasa
by Brian Friel
December 4-19, 2010
This extraordinary play is the story of five unmarried sisters eking out their lives in a small village in Ireland in 1936. We meet them at the time of the festival of Lughnasa, which celebrates the pagan god of the harvest with drunken revelry and dancing. Their spare existence is interrupted by brief, colorful bursts of music from the radio, their only link to the romance and hope of the world at large. The action of the play is told through the memory of the illegitimate son of one of the sisters as he remembers the five women who raised him, his mother and four maiden aunts. Widely regarded as Brian Friel's masterpiece, this haunting play is Friel's tribute to the spirit and valor of the past. Winner of the 1992 Tony Award for Best Play, the Outer Critics Circle Award for Best Broadway Play and the New York Drama Critics Circle Award for Best Play.
"The most elegant and rueful memory play since The Glass Menagerie." TimeOut
"This play does exactly what theater was born to do, carrying both its characters and audience aloft on those waves of distant music and ecstatic release that, in defiance of all language and logic, let us dance and dream just before night must fall." The New York Times
Read more about Dancing at Lughnasa.

The Drowsy Chaperone
Music and Lyrics by Lisa Lambert & Greg Morrison; Book by Bob Martin and Don McKellar
January 29-February 20, 2011
A musical so fizzy, tart and intoxicating, it'll go straight to your head!
No, it's not a vintage '28 Dom Perignon. It's The Drowsy Chaperone, a wildly rambunctious and deliciously funny tribute to musical comedies of the Jazz Age.
Take a spin on our narrator's turntable and dive into the world of madcap musical mayhem and mischief as the cast album of his favorite Broadway show bursts to life in his living room. It's the tale of a brazen follies starlet giving up the stage for love, and all the zany guests who've gathered for her wedding, including the gin-soaked chaperone assigned to keep a watchful eye, albeit at half-mast, on this motley crew.
Winner of five 2006 Tony Awards, including Best Book and Best Original Score, The Drowsy Chaperone embodies the desire in all our hearts to simply be entertained.
Read more about The Drowsy Chaperone.

August Wilson's Jitney
March 19-April 3, 2011
Set in 1977 in the Hill District of Pittsburgh that is served by a makeshift taxi company, August Wilson's Jitney is a beautiful addition to the author's decade-by-decade cycle of plays about the black American experience in the twentieth century. The men who drive gypsy cabs, or "jitneys" strive to find honor and accomplishment in a harsh world. When the station owner's estranged son returns from prison, their reunion unleashes two decades of brutal, raw emotion.
"Explosive… Crackles with theatrical energy." New York Daily News
"Throughly engrossing, Jitney holds us in charmed captivity." The New York Times
"Comic, soulful and immensely moving." TimeOut
Read more about August Wilson's Jitney.

Oliver!
Music, Lyrics, and Book by Lionel Bart
April 30-May 22, 2011
As the orphan Oliver journeys from the workhouse to the slums of Victorian London, he encounters such colorful and iconic characters as the cunning Artful Dodger, the wily Fagin, and the menacing Bill Sykes. Lionel Bart's take on the famous Dickens novel Oliver Twist has become a musical theater classic with a score that includes such well-known songs as "Food, Glorious Food", "Where is Love?", "Consider Yourself", and "Who Will Buy?".
Winner of 3 Tony Awards in 1963.
The 14th Annual Black Box New Play Festival
June 2-26, 2011
Where can a playwright find an outlet? Where can an audience see new works? The Gallery Players provides both of these in this Festival. Over the years of producing the Festival, we have developed works by countless playwrights, many of whom continue to work with The Gallery Players each year to incubate their new ideas. More than 300 plays have appeared in the Black Box New Play Festival since its inception and this year will bring even more writing and acting talent to the stage. Who knows what you'll discover in the Box?
Read more about the 14th Annual Black Box New Play Festival.

Macbeth
by William Shakespeare
July 21-31, 2011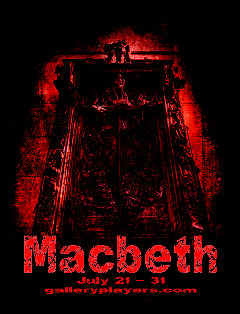 You have it all. Beautiful wife. Beautiful home. Faithful friends. Great job. The boss in your pocket. One day, you make the wrong move. Zig when you should zagged. You open the door to chaos and it all comes apart, that good life. Chaos shadows your beautiful wife, haunts that beautiful house. Friends, job, boss swallowed in an expanding pool of madness. Gone. Just you, alone in the dark. Tomorrow and tomorrow and tomorrow. Creeping toward death. Macbeth.
NOTE: This show is an addendum to the regular season and is not part of our subscription packages.