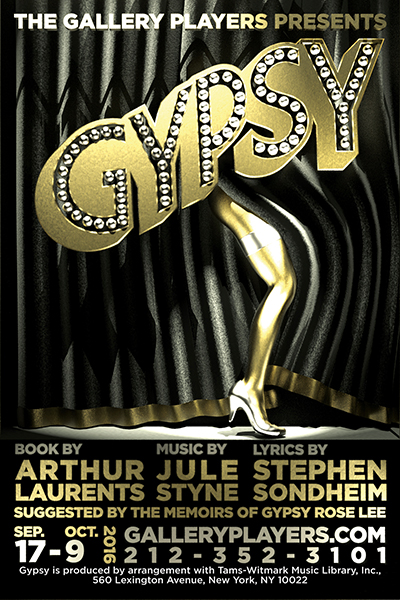 GYPSY: September 17 – October 9, 2016
GYPSY is the ultimate story about an aggressive stage mother. Join Rose, June and Louise in their trip across the United States during the 1920s, when vaudeville was dying and burlesque was born. Jule Styne's music and Stephen Sondheim's lyrics include Let Me Entertain You, Some People, You'll Never Get Away from Me, If Momma Was Married, All I Need Is the Girl, Everything's Coming Up Roses, You Gotta Get A Gimmick and Together Wherever We Go. This is a gripping story of one of the most frightening aspects of show business.
THE 39 STEPS: October 29 – November 13, 2016
WINNER! 2007 LAURENCE OLIVIER AWARD – Best New Comedy
6 Time TONY AWARD Nominee in 2008! – Best Play, Best Director, Best Costume Design, Best Scenic Design, Best Lighting Design (winner), Best Sound Design (winner).
Mix a Hitchcock masterpiece with a juicy spy novel, add a dash of Monty Python and you have The 39 Steps, a fast-paced whodunit for anyone who loves the magic of theatre! This 2-time Tony® and Drama Desk Award-winning treat is packed with nonstop laughs, over 150 zany characters (played by a ridiculously talented cast of 4), an on-stage plane crash, handcuffs, missing fingers and some good old-fashioned romance!
In The 39 Steps, a man with a boring life meets a woman with a thick accent who says she's a spy. When he takes her home, she is murdered. Soon, a mysterious organization called "The 39 Steps" is hot on the man's trail in a nationwide manhunt that climaxes in a death-defying finale! A riotous blend of virtuoso performances and wildly inventive stagecraft, The 39 Steps amounts to an unforgettable evening of pure pleasure!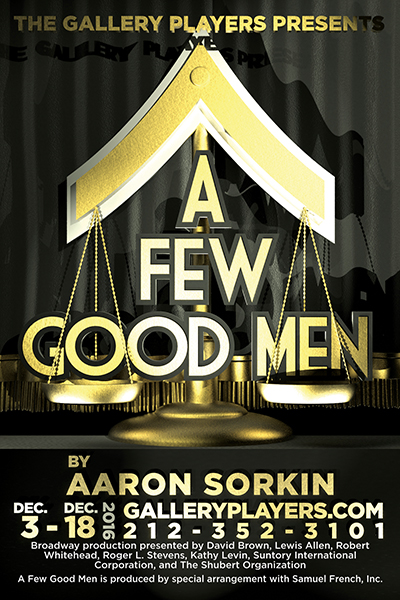 A FEW GOOD MEN: December 3 – December 18, 2016
This Broadway hit about the trial of two Marines for complicity in the death of a fellow Marine at Guantanamo Bay sizzles on stage. The Navy lawyer, a callow young man more interested in softball games than the case, expects a plea bargain and a cover up of what really happened. Prodded by a female member of his defense team, the lawyer eventually makes a valiant effort to defend his clients and, in so doing, puts the military mentality and the Marine code of honor on trial.
"Enormously entertaining." – New York Daily News
"Plenty of wise cracking humor and suspense." – Time Magazine
"Fresh and adroitly updated and conditioned to our time and socio-political climate." – NY Post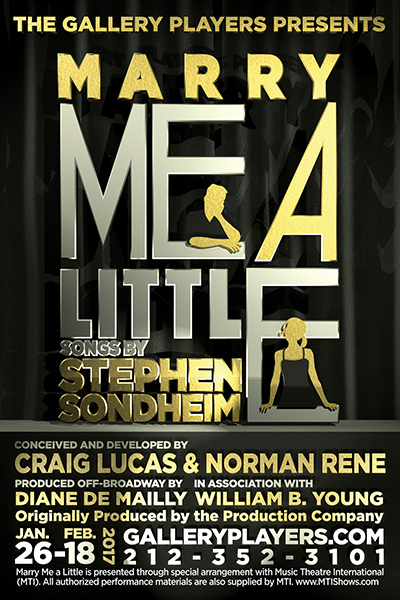 MARRY ME A LITTLE: January 26 – February 18, 2017  (Special Schedule)
A charming and bittersweet musical revue featuring songs by Stephen Sondheim, the undisputed master of the contemporary Broadway musical.  This show breathes new theatrical life and meaning into a collection of trunk songs that were culled from the final productions of Anyone Can Whistle, Follies, Company, A Funny Thing Happened on the Way to the Forum, and A Little Night Music.
Two single strangers, left alone in their studio apartments on a Saturday night, pass their time with sweetly secret, unshared fantasies, never knowing that they're just a floor away from each other and the end of their lonely dreams.
A must for Sondheim aficionados,  It's a smart, funny, sophisticated and moving evening, and a fascinating look at "the songs that got away."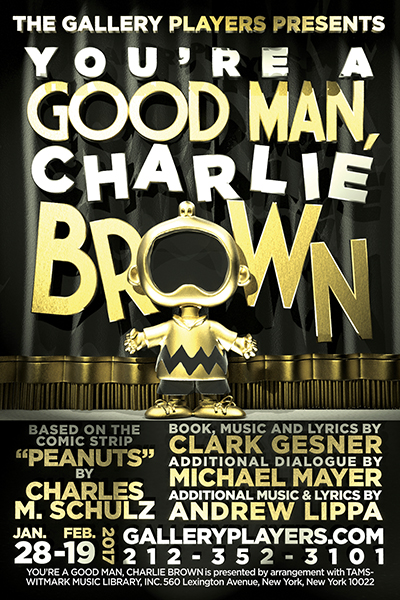 YOU'RE A GOOD MAN, CHARLIE BROWN: January 28 – February 19, 2017 (Special Schedule)
This delightful show  is a fresh approach to the all-time 50-year-old 1967 classic. Sally Brown joins Charlie Brown, Linus, Lucy, Schroeder and Snoopy in this version. Two new songs, Beethoven Day and My New Philosophy, have been added to the twelve wonderful numbers of the original version, such as My Blanket and Me, The Kite, The Baseball Game, Little Known Facts, Suppertime and Happiness.
SWEET BIRD OF YOUTH: March 11 – March 26, 2017
As New York Newsday describes: "Its two central characters are the Princess, an aging motion picture actress in flight from her latest screen disaster, and Chance Wayne, a young hustler whom she has picked up. Taking advantage of her drunkenness and his youth and good looks, he manages to lure her to the Southern town of his birth in order to see again a young girl with whom he has had an affair and whom he still loves. Word of his arrival spreads like contagion through the small town. Boss Finley, a political despot and father of the young girl, is especially interested. What Chance does not know is that unwittingly he has infected the girl and ever since the Boss, his sadistic son and his toadies have lain in wait for his return and for their revenge. Chance's scheme is to use the Princess to promote a motion picture career for himself and his girl. Naturally this falls afoul and in the end the avengers are about to close in on the passively waiting Chance, who has been deserted by his patroness and far worse, by his youth."
"Once again a bolt of thunder has been hurled by that Jovian playwright, Tennessee Williams, and the theatre reverberates to its roar." – NY Newsday
"Tennessee Williams recently said something about getting tired of delivering blockbusters to Broadway, but he has certainly provided one in SWEET BIRD OF YOUTH…written with enormous dramatic drive…it is a play of overwhelming force." – NY Post
"Despite the acrid nature of its material, SWEET BIRD OF YOUTH is Mr. Williams in a relaxed mood as a writer…SWEET BIRD OF YOUTH is one of his finest dramas." – The New York Times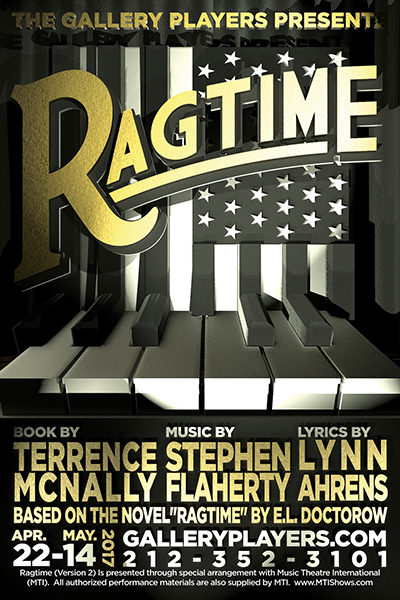 RAGTIME: April 22 – May 14, 2017
This sweeping musical portrait of early 20th century America tells the story of three families in pursuit of the American Dream.
Written by the award-winning composer/lyricist team of Stephen Flaherty and Lynn Ahrens (Once On This Island, Seussical and Lucky Stiff), noted playwright Terrence McNally, and based on E.L. Doctorow's distinguished novel, Ragtime is the winner of the 1998 Tony Awards for Best Score, Book and Orchestrations, and both the Drama Desk and Outer Critics Circle Awards for Best Musical and Best Score. Called by Time Magazine "A triumph for the stage," and by the International Herald Tribune "The best musical in twenty years," this acclaimed musical is filled with pageantry, emotion and hope, bursting onto the stage like no other musical.
At the dawn of a new century, everything is changing… nd anything is possible. Set in the volatile melting pot of turn-of-the-century New York, three distinctly American tales are woven together – that of a stifled upper-class wife, a determined Jewish immigrant and a daring young Harlem musician – united by their courage, compassion and belief in the promise of the future. Together they confront history's timeless contradictions of wealth and poverty, freedom and prejudice, hope and despair, and what it means to live in America.
The Tony-winning score is just as diverse as the melting pot of America itself, drawing upon many musical styles from the ragtime rhythms of Harlem and Tin Pan Alley to the klezmer of the Lower East Side, from bold brass band marches to delicate waltzes, from up-tempo banjo tunes to period parlor songs and expansive anthems. A truly unique and powerful portrait of America.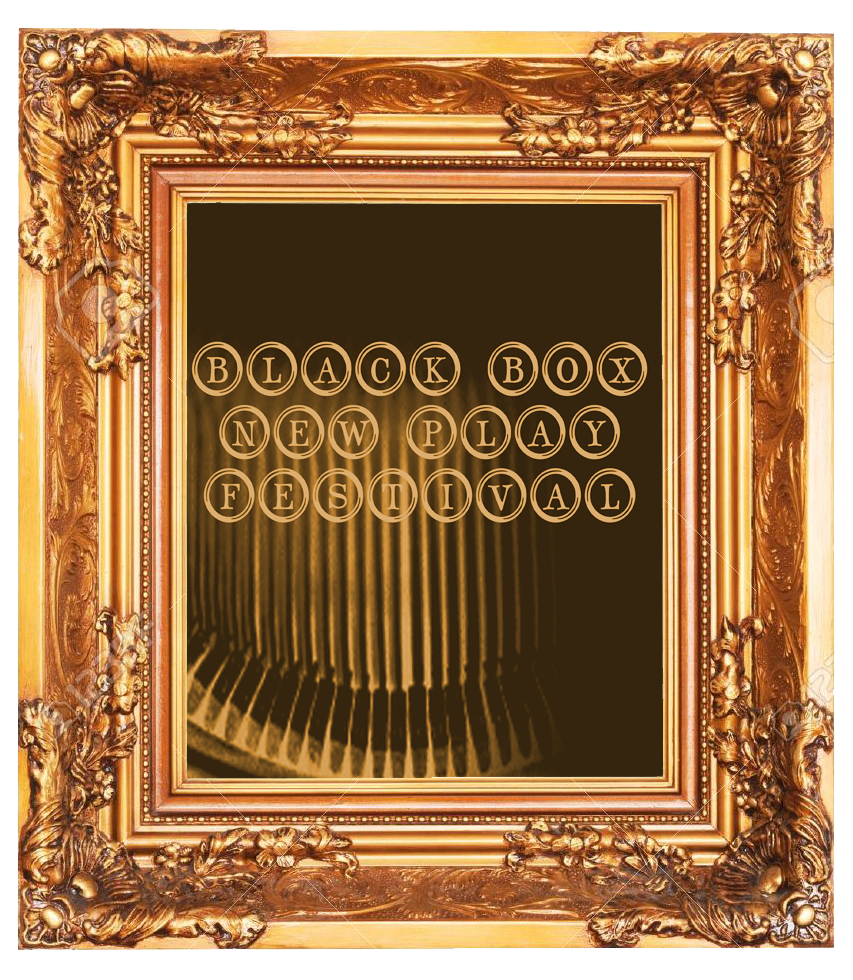 20th ANNUAL BLACK BOX NEW PLAY FESTIVAL: June 1 – June 25, 2017
For 19 years, Gallery has been dedicated to supporting emerging playwrights by developing and premiering their new plays. Each year, previously un-produced one-act and full length plays are selected, each playwright is paired with a professional director and actors, and the workshopping process begins. Driven by the playwright, the purpose of this collaboration is to hone the craft by polishing the play. The Festival runs four weeks, with a different program each week.