Black Box New Play Festival
January 21, 2021

-

January 31, 2021



The 24th annual new play festival will feature world premieres of short plays written specifically for Zoom, to view online from the comfort of your own home. Performances are free to watch and will be streamed online at 7:30pm EST Thursday through Sunday each week (link to be provided) – no downloads necessary!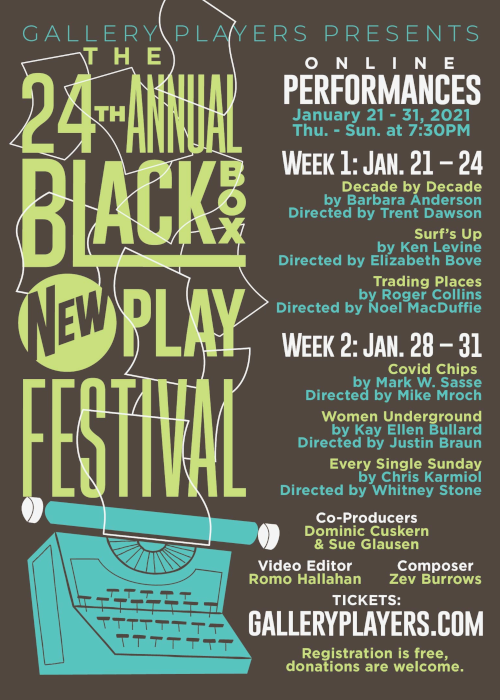 First Week: January 21 – 24
Decade by Decade by Barbara Anderson
Directed by Trent DawsonIt's a Thursday morning two years since the pandemic began in the Brooklyn home of Maria, Andrew, and their son Jared. Maria works as a Covid tracer and Jared is an internet influencer, but Andrew was forced into early retirement from his much-loved teaching career. In fact, everyone over sixty is considered too vulnerable to work or to even leave their homes. Andrew does his best to retain his role as the family provider, but what begins as a typical Thursday soon becomes a day when secrets are revealed and actions must be taken.
Surf's Up by Ken Levine
Directed by Elizabeth BovePeter announces to his Millennial daughter, Wendy, that he has quit his job and is going on an "endless summer" to surf around the world. And he invites her to shake up her button-down life and join him.
Trading Places by Roger Collins
Directed by Noel MacDuffieA father and his teenage daughter, separated in Cyberspace, debate the sanctity of raising mother from her grave after one year of interment. The father prevails and they intone an incantation and resurrect the matriarch. But yet another debate ensues – who will join whom seems to be at issue. As the time for their decision grows short, theye rehash their relationships until, suddenly, darkness looms over all three and the matter is decided.
Second Week: January 28 – 31
Covid Chips by Mark W. Sasse
Directed by Mike MrochAs restaurants in New York State begin to re-open during the COVID-19 crisis, Mr. Jawarski, from Peppy's Pub in Jamestown, receives a Zoom call from an Albany health official making sure that Peppy's is compliant. As Mr. Jawarski continues complying with new regulations, the health official keeps making additional Zoom calls to bring attention to another matter of omission.
Women Underground by Kay Ellen Bullard
Directed by Justin BraunThree women living lives of quiet desperation find themselves buried in the rubble of a bank explosion. Each has her own past experiences that could impact their survival strategy. Is any rescue even possible if you've already been
living the equivalent of a buried life?
Every Single Sunday by Chris Karmiol
Directed by Whitney StoneDifferent generations attempt to make a virtual connection and it doesn't go too smoothly. But that's okay… it wasn't meant to.
Creative
Co-Producers: Dominic Cuskern & Sue Glausen
Video Editor: Romo Hallahan
Composer: Zev Burrows


---
---