Online Workshop – Once Upon a One-Act: The Stories You Tell
July 10, 2020

-

August 14, 2020
ONCE UPON A ONE-ACT: THE STORIES YOU TELL
Fridays with Barrie Gelles
Entering Grades 1-5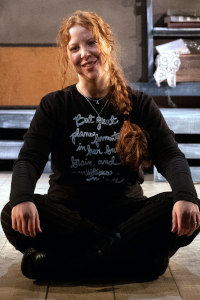 The students in this class will serve as a company of artists who get to try their hands at many different skills as we build a workshop production. In the first session, students will do exercises to help decide what kind of original story they want to create, what roles they want to play, and what artistry they want to explore. We will talk about the stories, movies, shows, books, and music that have been bringing us comfort as we "stay apart together" and let that inspire us to create our own story to bring more joy into the world. The following weeks will allow students to engage in acting, writing, costuming, movement, and music. Within a six week session we will have crafted a one-act that has been built by the students, for the students and about the students.
---
GENERAL PROGRAM DETAILS: All online classes will begin at 3:30pm via Zoom and last one hour. Classes run for six weeks beginning July 6th and run thru August 14th. Age groups are recommended. All classes have a limited number of seats available.
*Preparing a Creative Workspace in your Home: Clear some space for your child to move around and feel comfortable. Make sure the video is in a visible place where your child can easily see the screen. We realize everyone will have a different set-up and will work with what each family has!
TUITION:
All virtual workshops are "pay what you can." We understand recent events have brought hardship to so many of our lives. Our goal is to bring joy into your homes by providing your families with some creative content this summer. If you would like to make a contribution, please feel free to do so by clicking the link after submitting your registration.
TO REGISTER, please fill out our registration form.
We will contact you one week prior to the beginning of our summer series with instructions on how to login for your class. If you have further questions please feel free to email Justine via justine@galleryplayers.com
CANCELLATION POLICY:
We reserve the right to cancel any online class that is under-enrolled before June 30th. Any contributions made towards that class will be offered a refund.